Local Movers
Provide yourself with a smooth full-service move anywhere in the DC Area with our tireless local movers.

GET YOUR FREE ESTIMATE
"*" indicates required fields
Moving locally usually seems easy and simple, but only until you find yourself immersed in challenging moving endeavors. Even if you are moving just down the street, don't let yourself underestimate your upcoming relocation. A2B Moving and Storage has been helping families and individuals move their household or business possessions for over 24 years. During that period of time, we have worked hard, learned a lot, and gathered valuable experience. Today, our professionals are some of the most capable local movers DC has to offer. If you are aiming for comprehensive local moving services, you know what to do. Get in touch with us, apply for a free quote and let us help you turn your moving process into a complete success.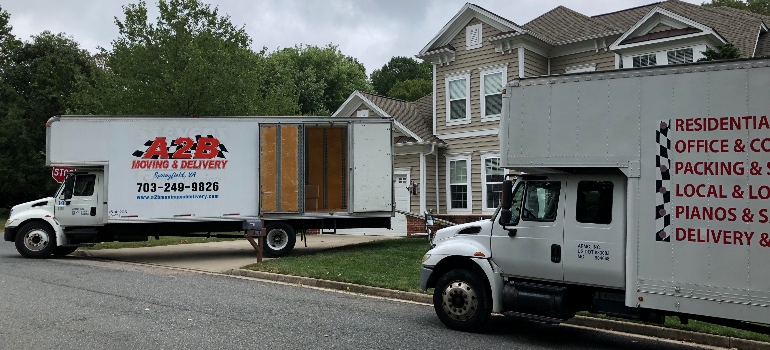 What makes our DC area local movers so special?
At A2B Moving and Storage, we believe that moving should be one of the most exciting events in one's life. With that in mind, we strive to guide, assist and support our customers every step of the way. With our team by your side, you will be able to actually enjoy the entire process.
We pride ourselves on premier moving and storage solutions while being one of the most dependable moving companies in the DC area. During more than two decades in the moving business, we accumulated valuable experience, while continuously improving our skills and staying competitive by providing exceptional moving services and impeccable customer care.
Our moving services offer a combination of expertise and the highest-quality resources
Our employees are our most valuable resources. For this reason, we hire only highly skilled individuals with a great attitude. We make sure they undergo the necessary training and get quality equipment and modern vehicles. This way, we make sure they deliver nothing less than top-notch moving and storage services. Let's put it this way – there is not a moving-related challenge our reliable crew of local movers from the DC area can't help you tackle. From finding a storage solution that suits your needs to being of services to you before, during, and even after your move. We are always ready to lend a helping hand, guide, and support you every step of the way. No delays, and no unpleasant surprises.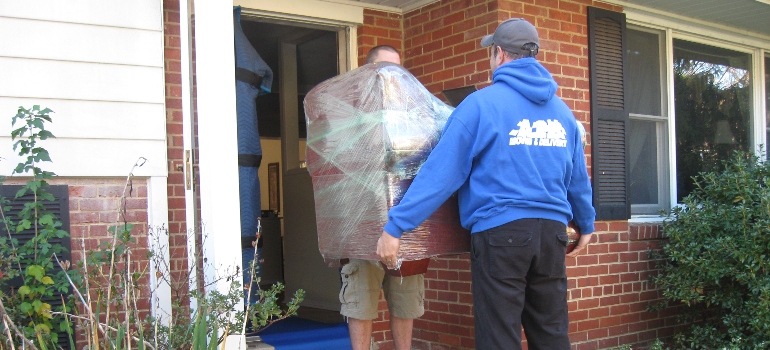 Besides local relocation assistance, we will gladly provide you with a plethora of other services:
An offer tailored to your specific needs
The fact that you are moving, doesn't mean you have to bear your burdens alone. On the contrary, with the help and guidance of capable DC local movers, your upcoming move can be a breeze. Also, you don't have to accept a range of services that don't suit your needs. Our team of professionals will provide a moving plan tailored to your specific needs. 
Besides going the extra mile to assess the needs of your relocation, A2B Moving and Storage also has one other thing working in our favor. Our knowledge of Northern Virginia, Maryland, and the DC area in general. Our crew consists of local movers DC area trusts, and we know every town, city, and street by heart. The detailed plan paired with an optimal route leads to complete moving success! Keep in mind that our professional approach, strong work ethic, and the fact that we have an A+ rating assigned by Better Business Bureau, prove that you are about to have an efficient, safe, and hassle-free relocation.
Fair and competitive rates that will fit your budget
There are many reasons why public opinion concerning hiring moving professionals isn't favorable. One of the biggest factors that form such an opinion is the fact that many people believe quality moving services have to be expensive. That they can't have a successful relocation without breaking the bank. Luckily for you, they are wrong. At A2B Moving and Storage, we believe that top-class services should go hand in hand with fair and reasonable pricing. No hidden or additional fees. You can hire some of the best local movers DC area has to offer and still stay on your moving budget.
For your convenience, we offer both hourly pricing and flat rates. When you are moving locally, hourly pricing is a great option. That means that you will have to pay only for the number of hours our DC area local movers spend on the job. If you have fewer pieces that need to be moved and your move is a simple one, you will pay less. For a rough estimate, we always suggest you apply for a non-obligatory and free-of-charge moving quote. Have in mind that when you simply request such an estimate, you have no obligations towards us. However, once you realize that by hiring us you are getting the highest quality at affordable rates, we have no doubt you will become one of our satisfied clients.
You are just a phone call away from an easy local move in the DC area
Based on our 24 years of experience, the most important piece of advice we can give is to begin planning your upcoming relocation as soon as possible – there is no better time than now! A2B Moving and Storage team is ready to take your call or website form and schedule a no-obligation, free moving estimate at a time convenient for your schedule. Rather than lose any precious time, get in touch with us today and schedule your move with local movers DC residents love!
Get in Touch
"*" indicates required fields