Storage Services
Opt for competitively-priced Alexandria storage solutions for safekeeping your personal or business belongings.

GET YOUR FREE ESTIMATE
"*" indicates required fields
In recent years, more and more people started using various storage solutions. The convenience storage facilities offer directly translates into the quality of life. Lack of clutter makes your home more alluring. Therefore, day-to-day living becomes more comfortable. A neat and tidy office boosts productivity. Furthermore, it makes it more inviting to potential clients. Lastly, having a safe place for your belongings while your home is enveloped in the chaos of moving is more than practical. It provides for better organization and swifter execution. In short, there are no downsides to using storage services the DC area offers. Give A2B Moving and Storage a call and we will help you make your life better, and your transition easier with our storage facilities conveniently located in Alexandria, VA, the heart of the DC area.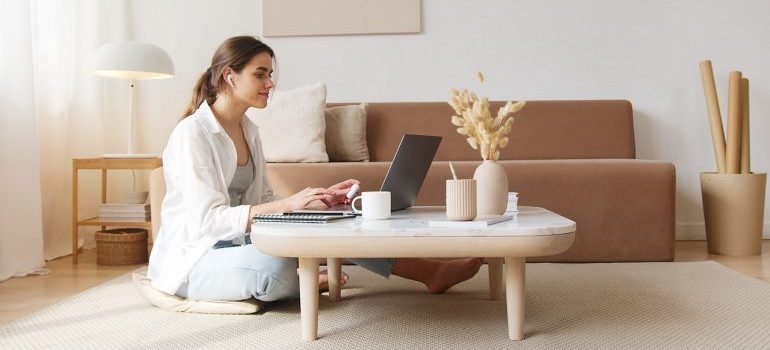 Moving and storage with the tradition of excellence
Improving your quality of life is a worthy undertaking. But, more than that, it's worthy of success. Whether you're starting a new life in another corner of the US, or improving on the existing one, you deserve to do it without trouble. And that is exactly why we are here.
For well over two decades, we've been helping residents of the greater DC area transition to their new lives stress-free. From the very beginning, it was our mission to provide the highest quality of service. And with some of the most reliable experts for moving and storage services DC area can offer – we continue to do so to this day. We keep honing the tradition of excellence through tailor-made moving and storage solutions, fit for the needs and pockets of individual customers. With us, the security and safety of your belongings aren't an option. They are a certainty.
Combine our DC area moving and storage services for a smooth transition
Moving can be one of the major challenges in your life. But, it doesn't mean it must be. Yet, it's often hard to even imagine relocation free of stress and tribulations. A sheer number of tasks and life-defining decisions, paired with a tight timeframe, can make you look at your move as a potential nightmare. And this cannot be further from the truth! In fact, your relocation can be a fantastic experience. Our experts for moving and storage from the DC area are here to make sure of that. Simply choose from our moving services, and leave the rest to us:
Storage fit for any purpose
We live in an age of convenience. Every amenity we can think of is readily within reach. It only takes a few clicks/taps and anything we want pops at our doorstep in a few days. However, the same convenience causes the number of items in our homes to grow exponentially. Which, by itself, creates another problem: lack of usable space. Fortunately, though, this problem is easily solvable.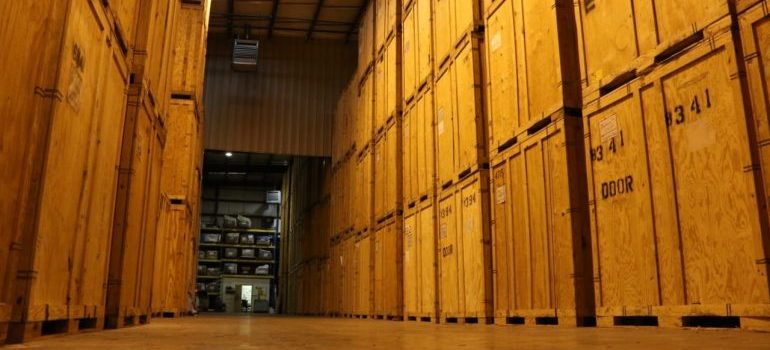 Our DC area storage facilities are a prime choice when you want to improve the functionality of both living and workspace. Climate-controlled units with state-of-the-art security systems offer unparalleled versatility in any situation. Whether you're remodeling, archiving, or moving, you can count on us to provide safe and accessible space for your belongings.
Choose the best possible experience when moving locally
To say Alexandria, VA is beautiful would be a severe understatement. Serene neighborhoods and gorgeous parks make it a haven for families. Brick-paved sidewalks give it a homey feel, that's quick to steal the hearts of newcomers. Historical buildings adorn virtually every corner and perfectly blend modern with archaic. It is no wonder that residents adore their city, and newcomers fall in love with it in an instant.
Although it boasts that distinct, warm small-town feel, Alexandria is still a big city. As such, moving within its borders still carries many challenges. But, a city this beautiful doesn't deserve to be viewed through hardships. For that matter – neither do you. And with our specialists for local moving and storage from the DC area, your enthusiasm will be safe. We'll take care of planning and hard work, so you can keep enjoying its splendor.
Leaving Alexandria or the DC area? Do so with ease!
Long-distance relocations are more difficult than their local counterpart. Distance directly impacts the amount of planning, decision-making, and tasks involved. As such, it takes more time to organize and execute. Needles to say, the whole undertaking can become rather complicated. Unless you have an A2B Moving and Storage team by your side, that is. We are here to simplify your move and make every aspect of it easier:
We'll help you devise a bulletproof plan. One that will help you avoid problems and complications;
We employ some of the most reliable experts in packing and storage services DC area has. Their expertise will ensure the safety of your belongings during transport;
You won't risk injuries or damage to your belongings. Our movers come equipped with tools to make loading and unloading safe and problem-free;
Our drivers are knowledgeable and experienced. They will plot the best and safest routes to deliver your cargo.
With us, your time, energy, and health are safe. We put the needs of our clients first, regardless of the challenges or scope of the relocation.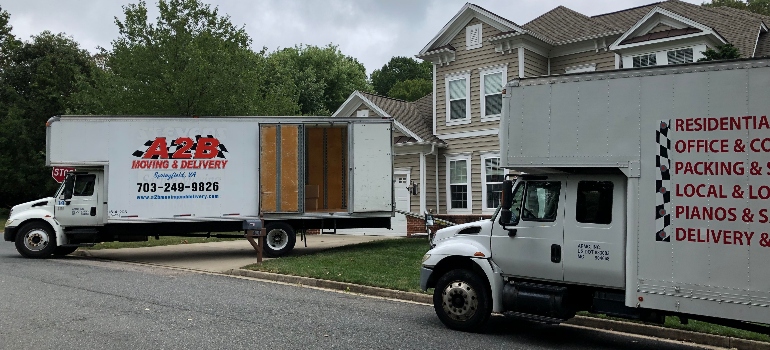 Are you ready to embark on the ultimate moving experience?
Do you want to move without stress? To laugh in the face of anxiety, as you enjoy every minute of your relocation? To be certain that no problem will rear its ugly head and hinder your transition? Because – all of it is possible. All it takes is to get in touch with A2B Moving and Storage. We keep honing our skills and experience through more than a hundred relocations per month. And when you enlist the help of our teams, we place it all at your disposal. We want your move to be nothing less than amazing. So give us a call, and see why our moving and storage services DC area residents choose above all others.
Get in Touch
"*" indicates required fields