GET YOUR FREE ESTIMATE
"*" indicates required fields
Your move can be simple. Better yet – it can be thoroughly enjoyable. Instead of rushing around, handling chores, you can spend time with family and friends. Make a few more precious memories before the big day. Instead of dealing with organizational problems, you can save your energy. Focus on the things you love and enjoy doing. Rather than dousing your ardor, you can save it for exploring your new environment. And it all begins when you get in touch with A2B Moving and Storage. With some of the finest movers Washington DC offers by your side, your relocation will be simple. Better yet – it will be stress-free. Contact us today and head down the road of easy moving.
Choose the winning combination of quality and affordability
Over the years, we earned our place among the top moving companies Washington DC. Over two decades of experience made us the prime choice of residents and the corporate world alike. However, what really sets us apart is our dedication to customers. For us, your satisfaction is a priority. And it is exactly why we tailored our moving services as a perfect combination of quality and affordability.
Our Washington DC movers are here to ensure your seamless transition. Regardless of the size or scope of your move, you can always count on us to be professional and responsible. Therefore, all you need to do is choose the combination of services you need. Everything else will be our concern.
The best way to tackle relocation is with Washington DC movers
You can sum up every question about handling the relocation in one sentence. "What's the best way to handle the move?" The answer is, actually, quite simple.
The best way to tackle the move is – rely on the guidance and support of reliable professionals. With moving helpers Washington DC has, success is guaranteed. We are here to take the stress out of your upcoming move, help you organize everything, and assist you every step of the way.
Our Washington DC movers will make a fool-proof plan for your relocation
Having a well-devised plan is the essence of every successful relocation. Once you hire movers DC we employ, they will immediately start planning your relocation. Our movers are detail-oriented. Thus, the possibility of anything slipping their mind is non-existent. Their experience allows them to identify potential obstacles. At the same time, training and expertise let them prevent problems, even before they occur. Therefore, you can expect them to work out every quirk, whether you're moving apartment, home, or office.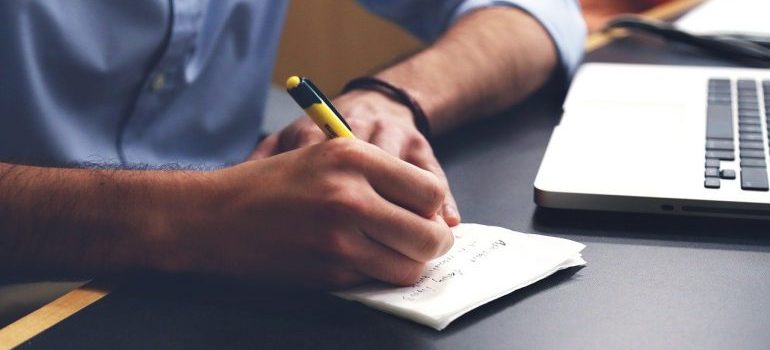 Your well-being and that of your belongings is safe with our Washington DC moving helpers
Moving involves a lot of hard work and heavy lifting. Needless to say, both of them carry certain risks. Improper handling of your belongings can result in their damage. And this is more than an inconvenience since you'll have to spend money on repairs or replacement. Yet, that's not the worst part. It's much worse than unprofessional handling can result in injuries. Granted, most of them are only bruises or scratches. Still, severe injuries aren't uncommon. Furthermore, they can have lasting consequences on your overall health. But, you won't concern yourself with any of these with our moving helpers Washington DC houses by your side.  Our movers come well-equipped with the tools and skills to use them. They'll take care of all the hard work, so you can enjoy a risk-free move.
We minimize transportation risks to deliver your cargo safely and reliably
Relocation is much more than stuffing your items in a truck and sending them on their merry way. In fact, the choice of the "merry way" makes all the difference. Especially if you're moving cross-country or further. To ensure your belongings get to their destination safely and without delays, drivers must have ample experience. Furthermore, they must plot valid and secure routes. This is essential to minimize risks and avoid potential delays. And we are one of the moving companies Washington DC has that hires exactly those kinds of drivers. With them, everything mentioned is implied. They spent years on the job and accumulated a vast knowledge of all things moving. Therefore, you can count on them to choose the best routes to deliver your items on time and in one piece.
Keep your spirits up – both before and after the move
Many household objects can be a potential source of moving difficulties. Furniture has to be disassembled before loading. Large appliances are bulky and difficult to maneuver with. However, none of those comes even close to the challenges piano moving poses. Although a source of great joy, when it comes to moving, a piano is nothing short of a nightmare. Unless you hire movers DC specializing in piano moving. They are aware of the value of your precious instrument – both monetary and emotional. That's why they use only specialized tools, quality supplies, and industry-approved methods to prepare and transport it. In other words: your magic is safe with us.
Are you ready for the amazing move free of stress and problems?
If so, be sure to get in touch with A2B Movers and Storage. With some of the finest movers Washington DC can offer, your belongings will be safe and your nerves intact. You will move without worries and avoid any tribulation associated with relocation. Your seamless transition is our priority and we'll stop at nothing to provide it for you.
Get in Touch
"*" indicates required fields