When you are moving, you will need to do make a lot of decisions. First of all, you need to decide on your moving date. Once you have the moving date, you should start preparing your move at least four to six weeks in advance. You need to give yourself enough time to hire A2B Moving and Storage, get all the packing and moving supplies, etc. However, if you plan to move your entire household, you should see if you want to hire furniture movers or not. If you haven't made your decision, here are all the perks of hiring furniture movers when moving from Bethesda to Gaithersburg MD. 
Damaging your furniture
Moving your furniture can be quite challenging. They are usually huge and bulky. If you don't know how to properly handle your furniture, you can easily cause damage. This can be a problem if you are on a tight budget. Since you will be the one causing the damage, you will also need to replace or repair all the damage done. Depending on the damage, this can be quite expensive. For this reason, if you hire movers, you can avoid paying for any repairs or buying new furniture. Movers are professionals. Therefore, they will know how to properly pack and move your furniture without causing damage. In addition to this, if you get good enough insurance, you can be rest assured there won't be any additional expenses. Insurance will cover all the damage that might happen. Therefore, hire movers Gaithersburg MD if you want to keep your furniture safe. 
Causing property damage
You can easily damage your furniture if mishandled. However, if you drop any of your heavy pieces of furniture, it will also cause property damage. This is one thing you should definitely avoid. For example, if you have been renting a place so far, you need to keep it in a good condition. If you cause any property damage, you will have to pay for repairs. This can be quite expensive, depending on the damage. In any case, you really don't want to have any additional expenses when moving. You might not get your deposit money back because your landlord might use it for the cost of repairs. On the other hand, if you plan to sell your old house, you first have to deal with property damage. You won't be able to ask for more money this way. Therefore, hire furniture movers MD. 
Hiring furniture movers when moving from Bethesda to Gaithersburg MD for transport
Transporting your furniture can also be quite difficult. You cannot simply put them in the moving truck, close the door, and hope for the best. For this reason, you should hire movers Bethesda MD. Professional movers have all the necessary equipment and supplies to ensure the safety of your furniture. Those would include the following:
If you want to do everything by yourself, you also need to get all the items mentioned above and more. It won't be affordable to buy them just for one use. You also need to know how to properly place your items so they wouldn't move and fall over each other during transport. This can also damage your items beyond repair. If you are moving expensive and fragile pieces of furniture, you need to make sure they are well protected. 
Keeping yourself safe
Apart from causing damage, you can also injure yourself. This might be the biggest danger of moving your furniture. You can easily repair or simply buy the new furniture. However, you cannot do the same with your back, arms, or legs. Unfortunately, injuries are quite common when moving your furniture. People don't know how to properly lift and carry heavy and bulky pieces of furniture. You should never use your back to lift heavy items. Instead, you should use your knees. Then, you need to do some light stretching exercises before lifting heavy items.
Consider your moving day as an exercise. Before working out, you need to stretch your muscles well in order to avoid injuries. Therefore, you should do the same when moving. Prepare your body properly so you won't end up in a hospital with broken bones or muscle pain.  
Where to find furniture movers?
Now that you know about all the benefits, you should find movers now. First of all, you should ask your friends and family members if they can recommend some moving companies. This is the best way to find a moving company. If your friends or family members were happy with their moving company, you will probably have the same experience. In addition to this, it is also good to know which moving companies you should avoid. Negative experiences can also help you to find movers. If no one can give you any recommendations, then, you should look on the internet.
When you are searching for movers online, you will have to pay attention to moving reviews. In addition to this, you should contact at least three to five moving companies, ask for a moving estimate, and compare. This way, you can find the best company for your relocation.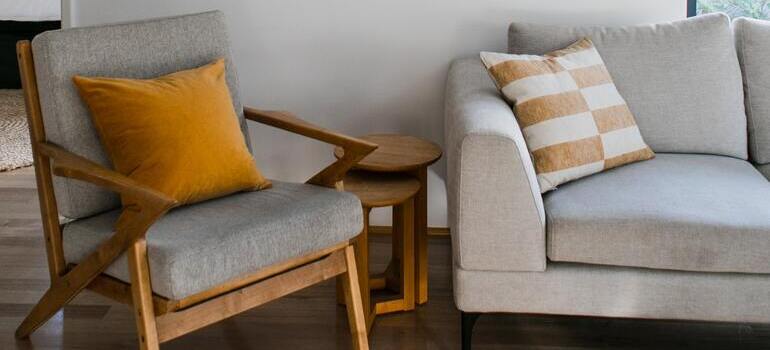 Hiring furniture movers when moving from Bethesda to Gaithersburg MD or not?
As you can see, there are many perks of hiring furniture movers when moving from Bethesda to Gaithersburg MD. First of all, you can avoid causing damage to your items. Then, you can also avoid causing any property damage. As mentioned, it can be quite expensive to pay for repairs in both cases. Then, you can also prevent causing any injuries. This can also be a huge problem. Not only would it hinder your moving, but also your every day until you recover. For this reason, hiring a moving company is the best option you have. Movers are professionals and they know how to properly pack, move, and transport your furniture. Lastly, make sure to get insurance. In case something happened, insurance would cover it.