GET YOUR FREE ESTIMATE
"*" indicates required fields
Spring is approaching and the decluttering season with it! This is when we all get the motivation to reorganize our homes and rethink the way we use our space. For this reason, we have decided to add a spring cleaning special service. This is a service that you can benefit from in many ways! And you will not even have to do anything except give us a call and tell us what exactly you need us to do. A2B Moving and Storage DC can help you declutter your space and transfer all your items to a safe place. Get in touch with our representatives to secure your date.
Opt for our spring cleaning special and declutter your space!
Our spring cleaning services are perfect for anyone that doesn't have time to declutter or just doesn't want to be bothered with the whole process. Once you get in touch with us, we will send you our team of professionals that will take care of everything. Our crew will arrive with all the necessary equipment, so you don't have to worry about a thing. All your items will be protected and packed with quality packing materials. This will ensure the total safety of your items! Since every item is different our movers use different packing techniques in order to adapt to the object that they are packing. All our movers are trained and have years of experience in packing and moving. This is why they are able to execute this task safely in record time.
Our safe storage vaults are perfect for safekeeping of your items
Your items will be stored in our secure storage vaults. Each of our vaults can contain 250 cubic feet of space! Most of the time one will be more than enough. Once we load everything our team will bring your vault to our secure storage facility, and we will bring it back whenever you want. You will not even have to lift a finger! Our crew will take care of everything.
Before we load your items our movers will make an inventory. You will be provided with a copy of it so that you know exactly which items you have in our storage.
Our facility is monitored at all times. Therefore, your items will be safe with us. Thanks to our climate-controlled facility your belongings will stay in perfect condition, no matter how long you decide to use our storage services. Even art pieces will be safe with us.
Decluttering and storage services for an affordable price
Another thing that makes this decluttering service great is its affordability. You will not have to break your bank in order to afford a clean and organized space. You will get our spring cleaning special for a flat rate of only $350! This price includes:
packing of your items
inventory
loading items into a secure storage vault and into our truck
transfer from your home to our storage facility and back
secure storage vault of  250 cubic feet of space
After this, you will only have to pay a monthly fee of $80! This is a deal that you don't want to miss out on! You can decide for how long you want to store your items with us, there is no obligation whatsoever. If you need more than our spring cleaning services, feel free to reach out to us. We will give you all the information you need and provide you with a free estimate. Thanks to its accuracy you will know the exact price.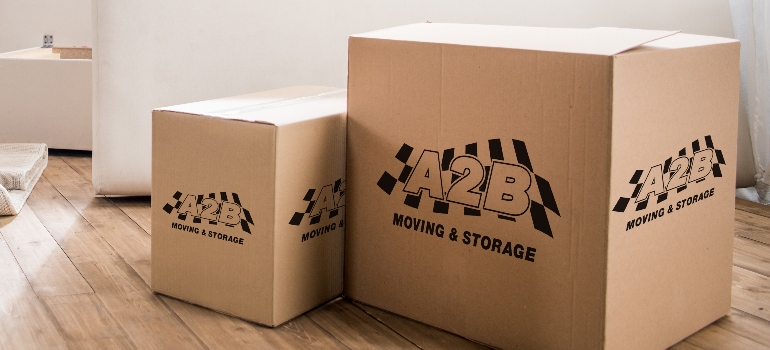 Contact A2B Moving and Storage and transform your space
No matter how many items you have and if for example, your garage is messy we do not care. We are not here to judge you. On the contrary, we are here to help you clear your space and safely store your items. You will see, that the less clutter you have in your home the better you are going to feel. Moreover, you will be able to turn your free space into something more useful than storage. Let our professionals free you from clutter! If you want to declutter your space all you need to do is contact  A2B Moving and Storage and ask for a spring cleaning special. You will be amazed at the amount of your newfound space.
Get in Touch
"*" indicates required fields