Without any doubt, packing is one of the most challenging tasks in the relocation process. Whether you are packing your living room or your bedroom many delicate items need to be handled with care. Still, the kitchen is certainly the most challenging room to pack. It has many fragile items but bulky ones as well. If you are not on the budget consider hiring one of the moving companies DC area to do all the packing instead of you. This way you will be sure that your kitchen items are well-protected and ready for transportation. On the other hand, if you have to cut costs during the relocation, know that packing your kitchen can be challenging but it doesn't have to be difficult. Read step by step guide to packing your kitchen for your DMV move.
Organize and prepare your kitchen for packing
If you are using long distance movers DC be aware that the cost of your relocation will be calculated based on the shipping weight. For that reason, it is important to organize your kitchen before you start packing. Go through all the stuff and pull out the ones that you are not using anymore. Downsizing the kitchen is more challenging than decluttering other rooms. Even if there are some silverware or pots that we didn't use for a long time we always think that we will need them for special occasions.
After you decide which items you will leave behind consider organizing a garage sale. That way you can downsize your kitchen, save money on the shipment, and earn extra cash for your relocation. And when it comes to the kitchen supplies that you want to take with you, sort them into different piles. Having well-organized piles will make your packing and labeling of the boxes much easier.
Arrange packing supplies
Whether office movers DC are relocating your business or residential movers your home, packing supplies are the most important part of the packing process. By having good quality packing supplies you will be able to relax knowing that your belongings are well protected and safe. When it comes to packing supplies for your kitchen make sure to have:
Moving boxes in different sizes
Sealing tape and scissors
Labeling marker
Dividers for specialty items such as glasses
Cushion materials to wrap up fragile items
Guide to packing your kitchen for your DMV move
When it comes to packing itself there are different ways to pack different items. That will depend on the material and how fragile the kitchen items are.
Glassware
To pack your glasses use the original boxes. Still, if you don't possess them, the best way to pack your glassware is to use dividers for the boxes. Carefully place glasses into the box and put dividers between them. Make sure not to put anything on top of them since they can break. Even if you still have space in boxes don't fill them but put some blankets or cushion materials on top.
Plates and bowls
When it comes to plates and bowls it is fine to stock them on top of each other. Just make sure to wrap each plate or bowl separately and then place them on top of each other. Also, put soft materials in empty spaces of your boxes. That way your bowls and plates will not get damaged or broken.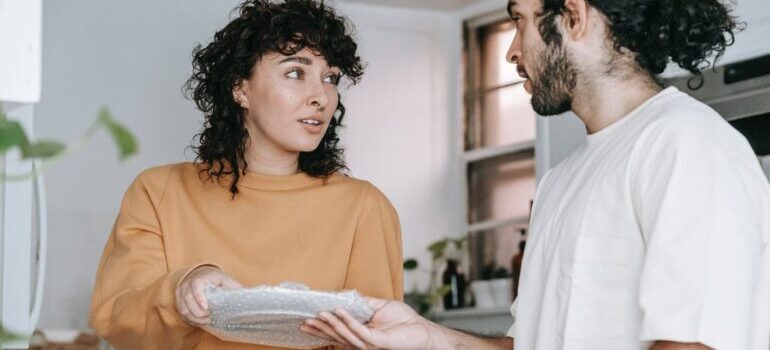 Pots and pans
The best way to pack pots and pans is to stack them together. Take the biggest pot that you have and place smaller ones inside. Make a stack of four pots or pans and then wrap them together. When it comes to lids, wrap them and pack them separately. This way you will maximize your space in the boxes.
Packing your appliances for your DMV move
For your appliances, it would be advisable to use original boxes. But in case that you don't have one, for smaller appliances, you can use any small moving box. Just make sure to secure it properly and put soft materials around it so it doesn't shift and get damaged. For big appliances, it is advisable to contact your moving company, as they have all the right materials and experience when it comes to packing and moving specialty items.
Prepare essential bag
It is important not to forget to prepare your essential bags. Even if local movers DC are relocating you just across the town you will need items for your first meal in your new home. Since it will take time for you to unpack it is good to have at least a plate and a glass for your first night. Also, even if you have a reliable company it is good to be extra cautious just in case there is any delay. By having your essential bag you will not have to worry about the meals for the first couple of days. This bag should contain plates, glasses, and silverware for you and your family.
For packing your kitchen for your DMV move hire professionals
Lastly, if you are not on the budget consider using moving services DC to pack your kitchen belongings. Professional packers have the right tools and equipment to wrap your kitchen supplies. Also, they have the skills and experience needed for specialty and fragile items. By having professional packers, you will have more time to spend with your friends and family or to focus on the other aspects of relocation. Also, you will be much relaxed knowing that your belongings are secured by professionals and there is little chance for any damages.
Packing can be challenging so make sure to have your packing survival guide for each room. Still, there is no doubt that the kitchen is the most complex room to pack. But if you follow this guide, packing your kitchen for your DMV move will become a simple and easy task.