One of the biggest fears when moving is the fear of new surroundings. You won't know the city, town or village and you won't know the people in it. Some people see this as a challenge, while others see it as an opportunity. That is the difference between extroverts and introverts. If you are an open, easygoing person, socializing comes naturally to you. While you might miss your old friends, you will make new ones with ease. But when it comes to introverted people, they will have a harder time outside of the comfort of their old home. If you want to keep your strength for what's to come after moving, hire A2B Moving and Storage, and learn everything you can about socializing in Bethesda for newcomers.
Socializing in Bethesda for newcomers – what to expect?
Bethesda is a town in Maryland that 65,000 people call home, and you can too since you moved with the help of some moving companies Bethesda. All these people enjoy the various entertainment options they have, parks, cafes, restaurants and so much more. Many kinds of people live here, from retirees to young professionals, giving you options to make friends of different age groups. Now that you know some basic information about this town, it is time for some tips on socializing in Bethesda for newcomers. Some things you can do are:
Focus on yourself
Be open
Take your dog for a walk
Focus on yourself
You should be your priority, especially after a stressful time like moving is, even with some movers Maryland by your side. You cannot focus on making friends and being sociable if you don't feel well. After you finish the urgent tasks, focus on yourself and your well-being. Take it slow, there is no rush. You just moved to a new town, you have all the time in the world to get to know it and the people in it. The first few days or weeks should be for you, so enjoy them as much as you want.
Be open
Once you decide that you want to put yourself out there, you have to do it a certain way. Think, would you approach a person that is grumpy all the time? Since the answer is likely no, think of the way that you look at other people. If you catch yourself always being negative and frowning, it might be time to change that. When you go out to the store, for starters, you can try making small talk with the local cashiers and people just to test the waters. If you just flew in with some international movers MD, you need to learn a little about the people before you start getting to know them.
Take your dog for a walk
If you moved with your dog, know that there is no cutter way to be approached than because of one. They are just irresistible, especially to another person of the same interests. A dog park would be a great place to start. Leave your dog run around and you will find yourself talking to a fellow dog owner in no time, trust us.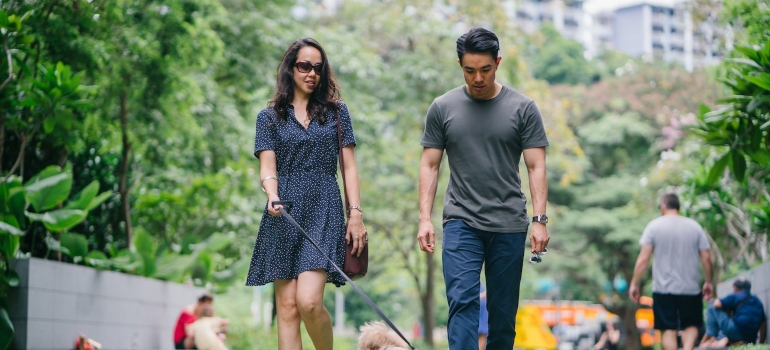 Conclusion on socializing in Bethesda for newcomers
Socializing in Bethesda for newcomers might seem difficult, but it all depends on your mindset. If you are thinking about all the people that you left behind, try to think of it as a chance to get to see something new. Schedule dates with them, but don't let yourself be sad over the past. This will only stop you from the beautiful things that you can experience. We wish you good luck!