Large household items are one of the biggest packing challenges, even for experienced movers. Whether you're staying within DC boundaries or going further away, consider the services of moving companies DC area!  You'll save time, money and most importantly, prevent any potential injuries or damages. You can pack large appliances for moving in DC area without any incidents with proper assistance.  There are some precautions to think about beforehand though, to assure the relocation goes as easy as possible. Keep reading, as you're on the right place!
Prepare large devices for transport within DC area
Unless you're moving into a fully equipped home, you'll need to transfer at least part of your household. Some items are not as difficult to pack and move around, but big devices require more caution and skills. Packing large appliances for moving must be carefully worked out. Having done the initial planning, hire local movers DC to make the real-time move run smoothly! First of all, revise your inventory. It's likely you don't have to transport all bulky appliances.
Check which appliances to pack for moving
Before calling the movers, make sure to check the condition of your devices. What you once used may be outdated and replaceable. Damaged or old appliances will take packing space and supplies and bring unnecessary workload. Refrigerators, washing machines, stoves, and other large appliances you pack for relocation in DC area could be excess in your new home or office space. For workspace relocation, office movers DC will gladly assist!
Even if your appliances are brand new, you should check if they fit your new home. Traveling both long and short distances with unsuitable items is a huge waste. You can always rely on long distance movers DC for relocating large appliances, just make sure you pack only the ones that are still suitable. Also, check if you are allowed to remove them from the place you're no longer occupying. Bear this in mind before moving.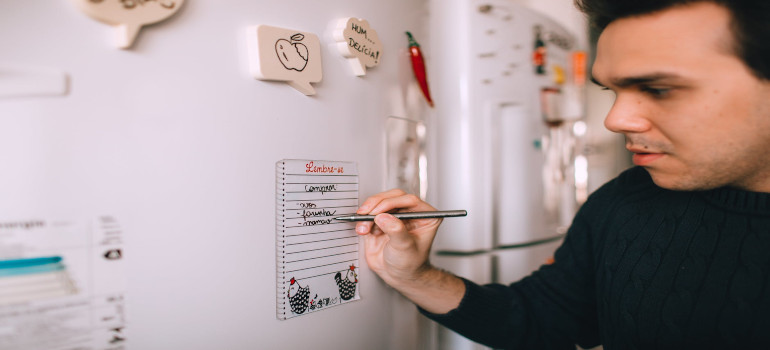 Pack large appliances with special care
You can easily deal with a toaster or a kettle, but big household devices demand more attention. Wrap the appliances with adequate protective materials, and also the surfaces you'll be moving them over. Dismantle the appliances if possible, and pack each part separately before setting off to another DC area.
If needed, use a dolly or slider, for easier maneuvering big electronic devices. A wide range of moving services DC is at your disposal for moving even the trickiest home appliances. Safety comes first, so make sure they are powered off, empty, and clean before packing.
The appliances you leave behind when moving
Sometimes your existing home devices simply won't work at the new place. One of the ways to dispose them of is by recycling them properly. However, if appliances are still functional, you have more options. You can do the following to facilitate your packing and relocation:
Only pack large appliances that will serve you in the new DC home
Leave the rest at your old home if possible
Give them to your friends or neighbors that need them
Recycle or donate the appliances
With proper protection, you can pack large appliances when moving in DC area stress-free. Big electronic devices are must-haves in every home, so they're worth putting extra effort into their safe relocation. Now that you're ready, get down to preparing your essential biggies for the go!