Usually, when people are moving, they already have many costs. And hiring someone to just transport your heaviest furniture might be something you aren't in the situation to afford currently. But, the good news is you can always do it by yourself! But, seeing how lifting and carrying very heavy items could put a strain on your back, you need to know how to do it properly. That's where A2B Moving and Storage comes into play. We've got some of the best tips to help you lessen the load when you relocate heavy items from your apartment.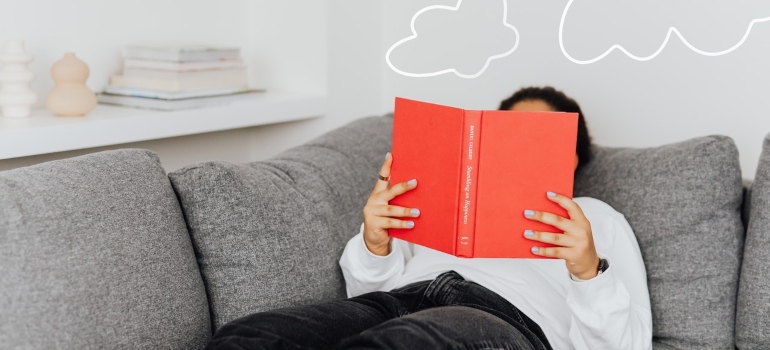 What do you need to pay attention to when you relocate heavy items from your apartment?
Moving heavy furniture by yourself basically means you will just need to remove it from the apartment to the moving truck. Your interstate movers DC will know how to handle the rest. Otherwise, if you're conducting a completely D.I.Y move, you will need to place it in the rented truck and drive it as well. Something obvious that you mustn't forget is that one person won't be enough to move a heavy item. You might need to carry your couch down the stairs, or through narrow spaces, so you will need more help. You can always ask your partner, family, or friends to assist you on the day of the move. Your loved ones will likely have no problem helping you.
Assuming you've never moved heavy furniture, there are some tricks on how to go about it. Now, we will cover those. But, please remember that professionals are called professionals because they know exactly what they are doing. If your moving process becomes too much for you, you can always contact a moving company and ask for some help.
Make a plan
What you are striving for when moving heavy furniture is to be as efficient as possible. Before you begin moving everything around though, you need a good plan. Seeing how the end goal of carrying these heavy items is to place them in the moving truck, you need to think of where each piece goes before beginning. Measure your furniture and measure the space in the truck. This will allow some easy calculations and you'll be able to place everything as efficiently as possible. Keep in mind that the truck needs to have balance, so the items need to have their place planned out. You will most likely do the heavy lifting first and place all the bulkier items in the moving truck. Then, you can place your lighter and smaller boxes.
Even though making a plan might seem like a waste of precious time, it will actually save you the most time and effort. All of the DC apartment movers do the same! You will know exactly which piece you need to carry and when. So, consider making a detailed plan, even a sketch if that's how you prefer. You'll be thankful to yourself.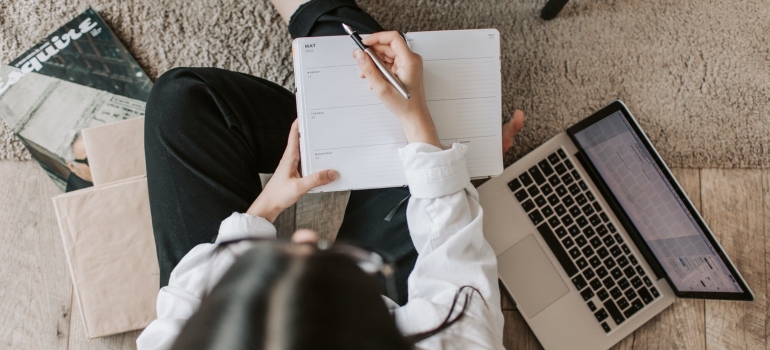 Get the adequate equipment
There are many people who decide to do a D.I.Y move and there is a lot of moving equipment that is affordable and accessible to everyone. You can either purchase these items or rent them.
Here's a list of things you will need:
Moving straps – You will also come across them being named "lifting straps", or "furniture straps". These devices help get a significant amount of weight off your back. They are adjustable to the size and shape of your furniture as well as to your body.
Furniture dollies – Dollies will save your back the most. There are two types of dollies and you'll be able to get the job done no matter which one you choose in the end. You can get a four-wheeled platform with a handle, or a two-wheeled hand truck. You will also need rope or some additional straps to fixate your items to the dollies.
Furniture sliders – These are a must-have when you relocate heavy items from your apartment. Furniture sliders are small pieces of plastic that you put on the legs of your furniture. They, in turn, make it possible to slide your furniture on the floor, and carpet. They reduce the friction that usually happens between your furniture and the ground and allows for a simple relocation. Also, another perk is that neither your floor nor your carpet will get damaged.
Disassemble furniture if possible
Remove all the pieces that can be removed. This includes cushions, legs, drawers, knobs, etc. You can put all the things you removed into one single box and know exactly where they are located. Another thing you can disassemble is bed frames or sectionals. If things become too complicated, hiring moving services DC is always an option. And really, these services are completely worth it so you don't hurt yourself.
Follow the proper lifting techniques
We've all heard that you can hurt your back pretty badly if you don't follow proper lifting techniques. With all of the equipment we've named, you will actually do the least amount of lifting, which was the point all along. But, when you arrive at a staircase or need to load things into the truck, you will need to lift. So, how do you go about it?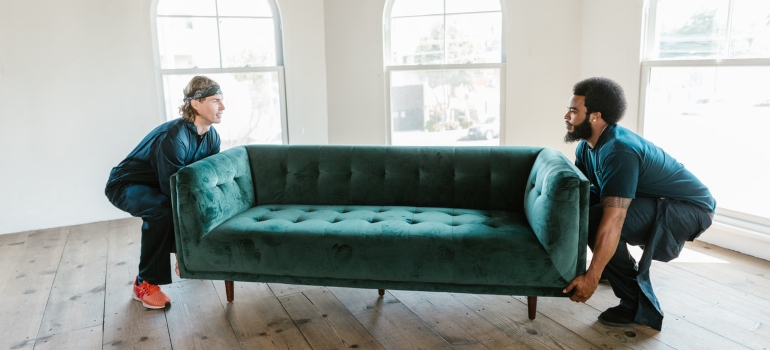 Bend your knees, not your back
The most important thing when lifting heavy objects is to really try and do it from your legs. Keep your back straight and put all of the weights into your knees and legs. To pick something up, squat and then pick it up. To put something down, squat and then release it. Just keep your back straight!
Carry everything close to your body
When you do this, you are allowing your upper arms to also help you lessen the weight on your back. And it will help you maintain balance and get the task done quicker!
Don't twist your body when you relocate heavy items from your apartment
Keep your body still and straight. Don't make sudden movements and always try to just follow the path with your hips and legs. If you twist around too much you could cause injury.
Those were our tips on how to relocate heavy items from your apartment! Good luck.