Art is very delicate. It needs to be handled with care. And running a gallery can be a huge job with a lot of responsibilities. Whenever you get some new pieces for your gallery they need to be transported and stored in your space. So, it is imperative that you move and store everything correctly. That's why we at A2B Moving and Storage have prepared some of the best moving and storage tips for gallery owners in Alexandria. By following this list you'll be prepared for everything running a gallery entails.
Climate-controlled storage
The biggest game-changer in the storage of art pieces is climate-controlled storage units. You can rent some self-storage Alexandria VA, or opt for storage facilities where other people take care of your artworks. Why climate-controlled though? Well, certain artwork needs certain conditions to say intact. For example, mold is something that can appear on your artworks and damage them beyond repair. So, really if you need to store your pieces, you really should do it somewhere where they are safe.
Your pieces will remain pristine and you won't have anything to worry about. So just sit back and relax while your art is relaxing in a safe environment as well. Hiring one of the long-distance moving companies Northern VA should also prove successful when moving your artwork. Distance isn't an issue!
Hiring professional movers
When it comes to relocating your entire gallery, you should always search for the right professionals. Many movers are well-versed in moving priceless artwork, but many aren't as well. So, you really need to pick carefully who to trust. It isn't easy deciding if a moving company is trustworthy or not when you haven't had any experience with them before. Your movers Alexandria VA need to be qualified to move artwork. Moving delicate pieces such as artwork is a specialized service. That means that not just anyone can do it!
When hiring professional movers always try to find some first-hand experiences from people you know. Your friends and family, or even better colleagues, can give you some of the best recommendations. And sometimes even referrals where you can score a discount for the move! But the gist of it is that you're searching for trusted people who offer specialized moving services. Oh, and insurance is a must as well.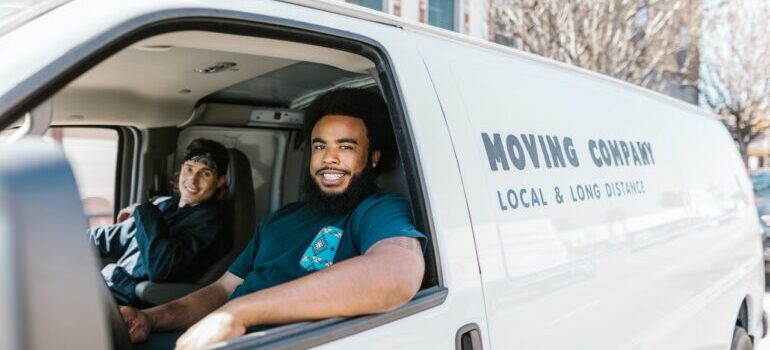 Hiring professional packing services
As we've gone over with the professional movers, the same thing goes for professional packers. They know exactly how to pack your artwork for the safest trip. They even know different techniques of packing according to what it is they are packing. Certain works need more attention than others and professional packers know all of the kinks. Your chosen movers Virginia are likely to offer specialized packing services alongside specialized moving services. Usually, they go as a packaged deal.
Moving and storing artwork by yourself?
You might be the type who likes a little bit of a more hands-on approach when it comes to your work, instead of opting for any moving companies Sterling VA. You want to do everything by yourself and that's a possibility as well. Now, we will go over some of the ways you personally can store and move your artwork. First off, even in instances of self-storage, we would recommend renting a storage unit. And a climate-controlled one at that.
When you've got your storage unit prepared, it's time to get your artwork prepared. The problem is that each piece of art requires a different approach, but we will now go over some of the usual steps when preparing artwork for storage.
Clean thoroughly
The first step to storage is always the same. You need to clean your artwork from dust so it doesn't deteriorate in the storage facility. Using a microfiber cloth you can gently clean the surface of your paintings. The alternative is using a dry paintbrush and very softly removing all of the dust. If the artwork you're working on is framed, you can polish the frame as well!
Framed artwork
The first thing to keep in mind is that you need to keep the frame safe all the same as the painting itself. To secure the frame you should place cardboard corners on all four corners of the frame. This will give you some structure and make the rest of the protection much easier. Next, you should wrap up your artwork in bubble wrap and secure it with duct tape or string. A good storage unit will be more than enough to protect your pieces from moisture, but for some extra protection, you can consider placing your works in a plastic bag before you put them in a box. The box is the last step and it should be roughly the same size as your painting.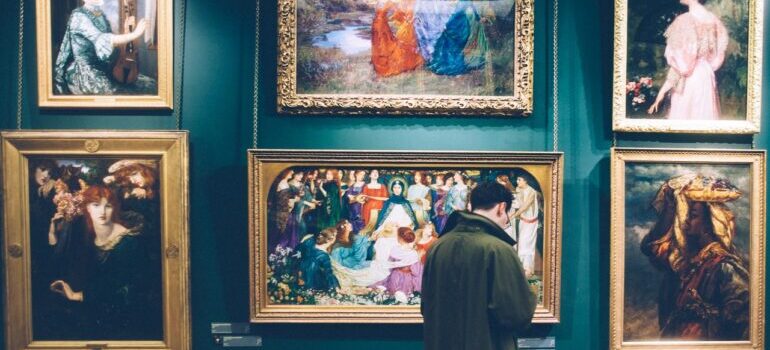 Unframed artwork
The easiest option you might have already heard of is simply rolling up your canvas paintings and storing them in protective tubes. But, even though it is the quickest way to take care of things, we would not recommend it. There is a possibility that your rolled-up artwork could get permanent creasing or cracks in the paint. And then it would need to be restored. The safest way to store an unframed artwork is to use glassine and wrap it in glassine. After that, you should place it between two pieces of foam or cardboard to keep it in place. The cardboard should be a bit bigger than the painting itself. A plastic bag, again, will protect from moisture. And a box to finish it up!
Sculptures and oddly shaped items
Usually, you can use bubble wrap to pack up sculptures and other items. If a particular item has a lot of edges, be sure to cover it multiple times until you make everything smooth with bubble wrap. As a finish, place the items in appropriately-sized boxes and you can call it a day! For additional tips try to find online resources about moving artwork.
Now that you've seen our moving and storage tips for gallery owners in Alexandria, go and get your gallery started up!