Moving during winter sometimes tends to be complicated. There are so many obstacles and disruptions that might happen, and you cannot do anything about. However, if you plan everything ahead and you are well aware of the things that might happen, you should be just fine. There are some easy tips and tricks that will help you preserve your cool head and relocate in a nice and smooth way. In order to do that, one of the most reputable movers DC Area  should be your top choice. They are experts in this field and moving when it snows in DC will be a piece of cake for them. And when it comes to the things you can do, keep reading this guide.
Moving when it snows in DC
There are a few things that everyone can do to get ready for the relocation when it snows. No matter if you already have an experience with this or if it is your first time relocating, you should not be afraid of anything. By following the tips and knowing your options, you will pack and relocate efficiently. Always mount on the things that you are not capable of stopping. Those are the storms and any other natural and weather disasters that might happen before your moving day and on the same one.
Protect your home
Properly pack your items,
Get storage facilities on time,
Be careful what you wear, and most importantly,
Have ways to relax during the relocation process.
With the first four tasks, you will be able to get some help. Whether it will be from your friends or you hire moving services DC, moving when it shows in DC will be just like any other day in our life. Easy and smooth.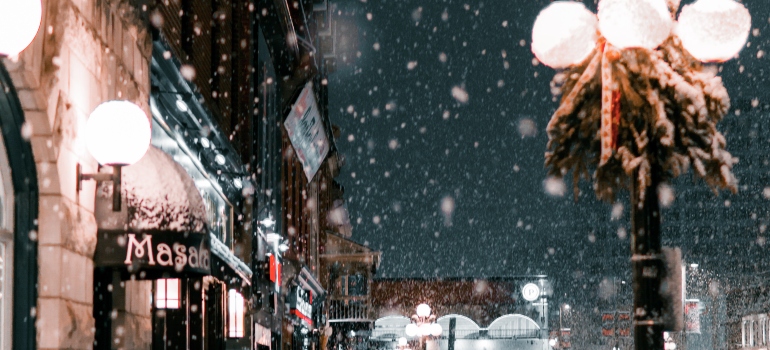 How to protect your home?
This is one of the most important things you need to do. When it snows in DC, it means that you will have mud, water, and snow on your shoes. And so will local movers DC. That is why protecting the floors in your home on a moving day is important. By placing some protective sheets or any other material on the floors, you will also make a path and the moves will know where they can move around the house.
Packing should be done properly
When you want to pack your items for relocation, it does not matter if it snows or not. You need to protect fragile items and make sure they are safe and sound during transport. But one of the things that might be different when moving when it snows is that you should get more firm and plastic moving boxes. This way if they are waiting to be loaded by Washington DC movers in the moving truck outside, the snow and water will not damage the box. The items inside will not be in touch with water. Therefore, they are safe.
Why is it important to get storage facilities on time when moving when it snows in DC?
The answer is pretty simple. If you are downsizing and you lack space in your new home, getting storage is a must-do thing. You will have a place where you will keep your items while moving and after the relocation. And why you should do it on time? Well, let's say that it will snow a lot and you need to get the boxes outside of your home. It is better to do it before the storm hits and before you make it to the final days of packing. Your home will have more space and you will have a more vivid picture of what is left to be done around your home.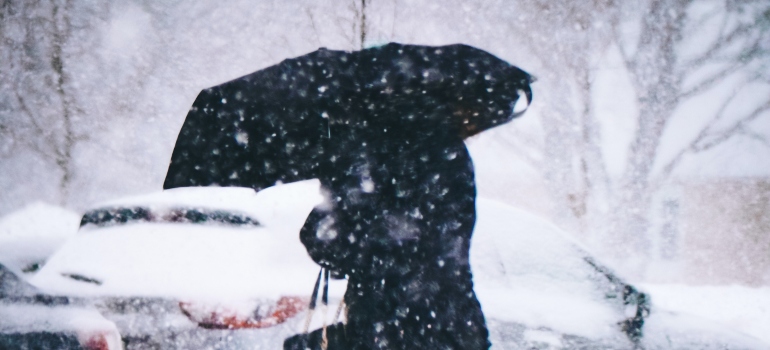 Think about yourself and your movers
If it snows, it means that it is cold outside. You need to take care of yourself and the movers that are helping you. So, get some clothes that are warm and make sure you have a lot of layers. The clothes must be easy to wear and comfortable. Prepare some hot beverages and make sure the movers have a place to sit and relax during the packing and loading of the truck. It will mean a lot to you and to them also. Plus, if they are relaxed and warm enough, the whole process will be faster.
Ways to relax during moving when it snows in DC
Relocation is stressful. That is why you will need some time to cool yourself down and make sure you are not under a lot of pressure. DC is a wonderful place when it snows and there are numerous places where you can have fun and keep your mind off the relocation for a moment. So, if you need some time off, try these:
Go sledding in DC,
Ice Skating in DC,
Take Part in a Giant Snowball Fight,
Build a Snowman at the Washington Monument,
Fly a Kite on the National Mall,
Go Snow tubing at the National Zoo,
Walk the National Mall, and try
Hike through Rock Creek Park.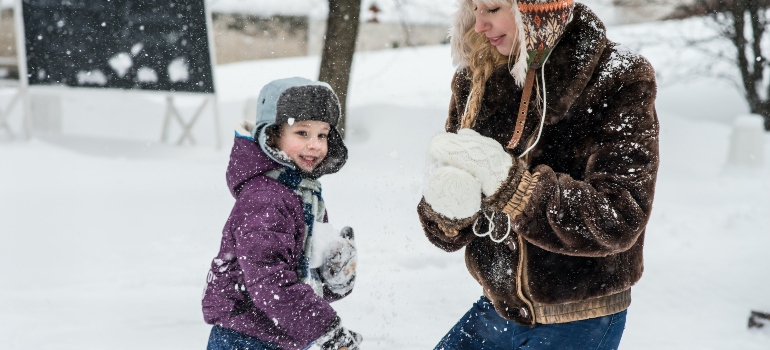 There is no reason why you should consider moving when it snows in DC hard and stressful. You should know that if you are patient and you get through all tasks on time, you will have more days to relax and spend time with your loved ones. Of course, having help is mandatory here. We have mentioned before, the help you need can come from your friends and relatives. Hiring professionals will be the best decision you can make. So, get everything in order, make a moving checklist, and follow the tasks you need to do. If you do everything properly there is nothing that can go wrong. Good luck!