Starting a family is a big responsibility and you're ready for it! You and the love of your life are ready to begin the rest of your lives together with your new family. What better place to start off the excitement than DC? Not only does it offer good jobs, including remote work, but it also has a lot of amazing schools. Even if your children are small, you are likely still thinking about their future. And the DC area offers a lot of variety! But, what are the top 5 places in the DC area for young families? That's what we at A2B Moving and Storage, as one of the most sought-after moving companies DC area, will show you!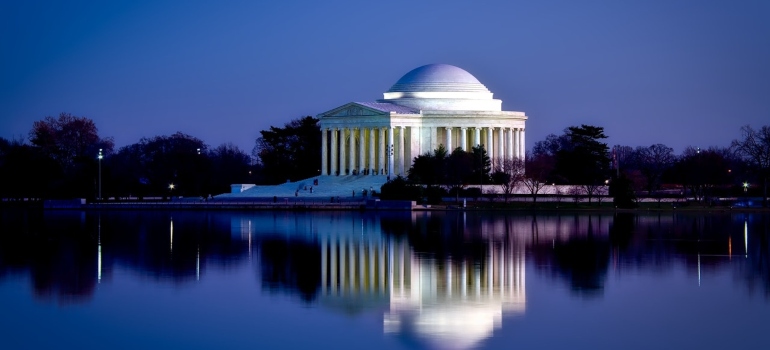 1. Georgetown
The Georgetown area is quaint and quiet, and the cobblestone streets together with the incredible 18-century architecture create a sight to behold. If you choose Georgetown for your relocation, you will be happy to know that everything is within reach there. You will find around 500 stores in this small area, for absolutely everything you need and want. This town also has some amazing primary and high school options. The schools partner with Georgetown University and George Washington University and offer additional programs for higher education at a younger age.
In Georgetown, you get to experience the history and the authenticity of DC. When the time comes to hire movers DC and decide on the apartment you're moving to, we've got a few tips. You should aim to find an apartment that looks over the Potomac River or one in the heart of it all. Also, be sure to search for some storage options if you can't seem to fit everything in your home. It's cheap and easy and will help you out tremendously.  This community will welcome you with open arms and your children will get to create lasting memories right in this lovely area.
2. Falls Church
Next on our list of top 5 places in the DC area for young families is Falls Church. With an unemployment rate of 2.75% (2.45% less than the national average of 5.2%), Falls Church is perfect for young families. It is important to know you have the resources to support your family. Recently, there are even more job opportunities, so Falls Church could be the perfect location for you and your family.
Some enjoy the hustle and bustle of city living, while others wish for the peace and tranquility of living in a small town. And this feeling is exactly what Falls Church offers with its population of around 13,000 citizens once your movers Falls Church VA leave you at your new home. You will get a reserved, calm living experience while DC will be just a matter of minutes away. Some could say it's the best of both worlds! Schooling in Falls Church is completely safe and extremely high quality. There are a few small schools in the area which means that everyone knows everyone and all of the children are being taken care of. The quality of education received is incredible and these schools really put in the effort with your child.
3. Sterling
Sterling welcomes you with open arms! This town has an abundance of job opportunities at every step. And that's just one of the reasons it makes our top 5 places in the DC area for young families list. All the way from service jobs to highly specialized services in various companies, whatever you're searching for – you'll find it! In Sterling hard work and dedication, as well as loyalty, are highly prized and rewarded. Your family won't ever need to worry about money and you'll get to enjoy a smooth life.
Sterling is even nowadays still considered a family-oriented town. There are many public gathering places where children can go with or without their parents to meet peers and have fun. Also, there is a huge number of shops just waiting to be visited. Before searching for some of the best moving companies Sterling VA, go visit the town. You are bound to be amazed and in love with Sterling. Also, Sterling is only an astounding 35 minutes away from Washington DC. If you ever need to take care of something in DC it will always be available.
4. Ashburn
Ashburn is a lovely community in Virginia's Loudoun County. It is tech-oriented and affluent with many of its residents working in DC while living in Ashburn. So, if you're working in tech, Ashburn will quickly find you a job. It is located in the eastern area and offers various housing options. You will come across planned communities like Ashburn Village, as well as apartments, and more typical homes. It is a family-friendly community with many parks and recreational outdoor activities. And your kids will love it!
Living in Ashburn gives your children access to amazing schooling opportunities. This town has some of the best schools in the Loudoun County Public School District. You can sit back and relax knowing your child will get some of the best education in the country! So, hire your movers Ashburn VA today, what are you waiting for?
5. Glover Park
In the last 10 years, Glover Park has had an influx of children and teenagers. Glover Park is located right in between Glover Archbold Park and the United States Naval Observatory. This neighborhood is characterized by the Stoddert Elementary School as being one of the best to find a proper education. And there are more options for schooling as well, seeing how you're in DC, there are countless schools to choose from!
Glover Park has an amazing community that is focused on supporting families and creating a kind of system among the community. If you want to live in one of the safest neighborhoods in DC and still enjoy the outdoors and fun activities, Glover Park is the place for you!
We hope you've enjoyed our top 5 places in the DC area for young families!