If you wonder how to relocate your office to another state, then this guide is just what you need. By following our tips, you will be able to relocate the entire office inventory without much stress. In addition to this, choosing reliable office movers to handle the task is crucial. When you have the right team to execute an office relocation professionally from start to finish, everything becomes much more simple. Moving doesn't have to be a complicated endeavor, and that's what we at A2B Moving and Storage DC stand by. You can always contact us when you are ready to move your office with the help of experienced professionals.
Relocating office to another state by yourself vs. hiring office movers
First and foremost,  relocating an office is a demanding task that requires precision. Plenty of items must be moved on time, which is why doing it yourself can be difficult and time-consuming. If you're not careful, the relocation journey may last longer than planned and leave you drained and frustrated. While there are items you can easily pack yourself, heavy items are better to leave to professionals. Hiring experienced office movers DC will not only remove your worries but also save you plenty of time. They are trained to deal with various items that require special packing techniques in order to stay in one piece during the move. Plus, hiring moving help is also a money-saving option. There's less risk to get injured while packing and carrying heavy equipment if you have a skilled moving crew at your side.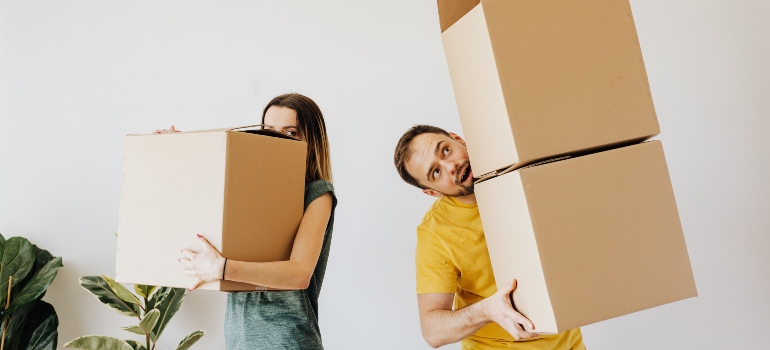 Office movers can also help you organize your upcoming office relocation. This comes in handy especially when you have multiple obligations to attend to during the day. With the help of seasoned movers, you can come up with a realistic schedule that helps you balance your work and other duties with relocation tasks. Bottom line – an office move is the safest when executed by experts.
How to choose the best office movers?
A smooth and stress-free move to another state is possible only with the help of skilled interstate movers DC has on offer. However, you must know how to find the ones that offer high quality moving services at affordable prices:
Pick a few reputable DC moving companies that offer a free estimate.
Check on their official website if they include the service you need in their offer.
Read the testimonials about their personnel and services.
Call each company and confirm the information you saw on their official websites. Make sure there are no undisclosed fees.
Reduce the number of movers from your list. Once you are left with the ones that seem the most promising, book their free estimates.
Cross-compare the estimates and pick the company with the best office moving and other services.
Don't forget about storage and packing supplies
Storage is much-needed when moving an office long-distance. Therefore, make sure that the storage the company offers you is clean and temperature-controlled. Furthermore, confirm with the company that it's only you who will have complete access to your stored belongings 24/7. It's best if you go and see the storage yourself, so don't hesitate to schedule a visit. As a customer, you have the right to know what you get for your money.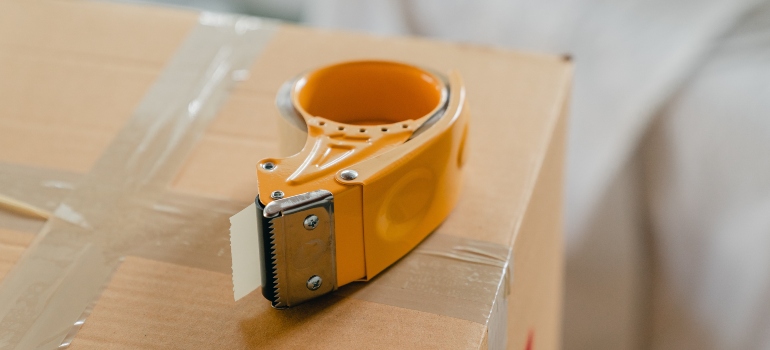 Full-service companies usually offer their packing supplies at affordable prices. However, make sure they have all the boxes you need for the move:
Standard moving boxes – small, medium, large.
Specialty boxes – different sizes and shapes for odd-shaped items that can't fit into standard boxes.
Things to do while preparing for an office relocation to another state
In addition to choosing the best office moving team for yourself, there are other things you can do before the moving day. Although your movers can do the majority of work for you, the coordination of your office move is in your hands. Therefore, it's important to stay on track with all moving duties and do what you can to make the move go faster.
Declutter your office and make a moving list
Your next task after picking the right movers and scheduling moving dates is getting rid of the garbage and all unnecessary items. Moving is easier with less items to pack, which is why regular decluttering is mandatory. If you put some effort every day to get rid of spare items, you'll end up with fewer items to pack and move. Only then you can know how many moving boxes or containers you actually need.
The first step is to sort your office inventory. Start with the items you want to get rid of. After that, sort them into the following categories:
Garbage – Anything that cannot be recycled.
Donation – Whatever is in a good condition should be donated to charities that accept different kinds of donations.
Sale – Try to sell office furniture you don't want in your new workspace. Use online platforms to put all items for sale ( E-bay for example) or apps such as OfferUp.
How to pack an office inventory for the relocation to another state?
In order to relocate your office to another state safely, you must pack all the items the right way. Long-distance relocations can sometimes last longer than usual, which is it's important to make sure belongings are safe. Although your movers can do the entire work for you, there are items you can pack yourself. That way, they will have less to work with. You can start with smaller but heavier items. Cover them with bubble wrap, packing paper, or clean fabric. Put them in padded boxes (small-sized) and cover them with layers of fabrics or packing paper. Lightweight items go into bigger boxes. That way, large boxes are easier to carry. As for heavier items (furniture, computers, etc.), cover them with protective covers until the movers come to disassemble and pack them.