Some say there's not a feeling quite as exciting as when the fishing rod starts dancing. That's when you know you're not going home empty-handed. Those who are moving to the DMV area will be happy to learn that it has some awesome places to try and fill the boat. If you are one of them and if you are looking for the best fishing experience without having to drive for hours, you're in the right place. From serene creeks to bustling rivers, the DMV area has some great fishing spots that promise a unique adventure. With a variety of fish species waiting beneath the surface, the thrill of the catch is complemented by the natural beauty of the surroundings. Therefore, let's explore the top fishing spots in the DMV area that are a must-see for everyone who loves this sport.
Potomac River in Alexandria beckons with its
The Potomac River in Alexandria is a prime destination for fishing enthusiasts. Anglers can expect to catch largemouth bass, catfish, and bluegill, with the best fishing spots located near the city's waterfront parks. The river's clear waters and scenic views of the historic Old Town make it a popular choice for both locals and visitors.
Here's what you can expect there:
Abundant largemouth bass, especially near underwater structures.
Catfish are plentiful, providing consistent action.
Bluegill and other panfish offer fun for anglers of all ages.
Interestingly, the Potomac River was once one of the top bass fishing rivers in the United States, and efforts continue to maintain its reputation as one of the top fishing spots in the DMV area. With its combination of great fishing, beautiful scenery, and historical significance, the Potomac River in Alexandria is a must-visit for any angler.
Four Mile Run in Arlington – a stream where you can do fishing and more
The Four Mile Run in Arlington is a significant natural waterway, draining two-thirds of the county and providing a scenic retreat in the urban setting. The adjacent Four Mile Run Park offers green spaces, a playground, and a walking path, while the 6.2-mile trail caters to bikers and runners. But, apart from all this, Four Mile Run is a popular urban fishing destination. This stream flows through various parks, providing ample green space for anglers to enjoy. Here, you can expect to catch a variety of fish, including catfish, bass, and sunfish.
The area around Four Mile Run is busy with activity. For those considering a move to this lively neighborhood, there are numerous moving companies Arlington VA is home to, that are ready to assist you in transferring your fishing gear and all other stuff to your new home.
The stream itself is lined with trees and vegetation, creating a picturesque setting for a day of fishing. With easy access to fishing spots and the promise of a diverse catch, Four Mile Run is undoubtedly one of the top fishing spots in the DMV area.
Lake Fairfax in Reston is perfect when you want to go fishing with the whole family
This lake has plenty of bass, catfish, and bluegill, and the chances of you going home with a lot of catch are pretty good. The surrounding park offers lush greenery and ample space for picnics and relaxation. That means a whole family can go on this fishing adventure, even if some members don't actually care much for fishing.
This part of Reston is pretty nice, and if you were to move there, it's a perfect place to introduce your new hometown to the rest of your loved ones. You can hire some of the reputable moving companies Washington DC is home to while you take your bunch on a fishing picnic. It's a good way to get the more sensitive members, such as teenage kids for example, to warm up to the disturbing life changes such as relocation.
Hunting Creek, Alexandria – the epitome of peace
Fishing in Hunting Creek is serene, with silence broken only by the gentle flow of water. The fish you can expect to catch here include catfish, bass, and perch, which is versatile enough to be interesting to most fishermen. The creek's clear waters and scenic surroundings make it a favorite spot for both novice and experienced fishermen. There are many spots around the bank to cast a line, which guarantees solitude, should you crave it. So, whether you're here for the catch or to enjoy the tranquil environment, Hunting Creek in Alexandria is a fishing locale that shouldn't be missed.
Many people nowadays are finding this location ideal to move to. According to some of the best movers Alexandria VA residents trust, many of the newcomers have come to the area from huge cities seeking peace in fishing and similar activities and have decided to make this place their home. So, if you decide to practice this age-old activity there, don't be surprised if it grows on you.
For anglers that love bird-watching too, Pohick Bay near Lorton is a perfect place to be
Pohick Bay Regional Park, situated near Lorton, is another prime fishing destination. The park is enveloped by a lush forest which provides a serene backdrop for fishing activities. Anglers have the opportunity to catch a variety of fish, including largemouth bass, catfish, striped bass, bluegill, crappie, carp, and perch. The abundance of perch, in particular, makes for an exciting fishing experience, especially during the spring when perch fishing is at its peak. Also, there's the option of renting a boat, available for those looking to venture into the waters for a different fishing vantage point.
In addition to fishing, the park offers a range of recreational activities. Visitors can explore five miles of scenic trails, engage in bird watching, and participate in guided water tours. The presence of numerous bird species, such as the Bald Eagle and Great Egret, adds an extra layer of enjoyment. With so much to do and abundant fishing opportunities, Pohick Bay Regional Park is a top-notch destination for anglers and nature enthusiasts alike. No wonder it's one of the places the moving companies DC area citizens rely on recommend their clients to visit after moving to Lorton.
Seneca Creek in Gaithersburg – ideal for those that prefer shallow water
Seneca Creek State Park, near Gaithersburg, Maryland, spreads across 6,300 acres. It features 14 miles of the creek and the 90-acre Clopper Lake. All that is stocked with various fish species including largemouth bass, tiger muskie, channel catfish, sunfish, bluegill, and pumpkinseed sunfish. With an average depth of 18 feet and numerous shallow enclaves, the lake provides ideal conditions for both novice and experienced anglers.
Beyond fishing, the park offers 50 miles of trails for hiking, cycling, and horseback riding, as well as kayaking opportunities. Additional amenities include picnicking facilities, a playground, and a disc golf course, ensuring a fun and active visit for all.
For those considering a move to the area, the allure of Seneca Creek State Park is undeniable. Movers Gaithersburg MD is a base of, frequently finding new residents drawn to the region, eager to embrace the outdoor lifestyle and fishing opportunities the park provides. With its numerous activities and amenities, the park serves as a significant attraction, contributing to the area's appeal for families and outdoor enthusiasts alike. Whether you're an avid angler, a nature lover, or simply seeking a peaceful retreat, this park should be on your must-visit list.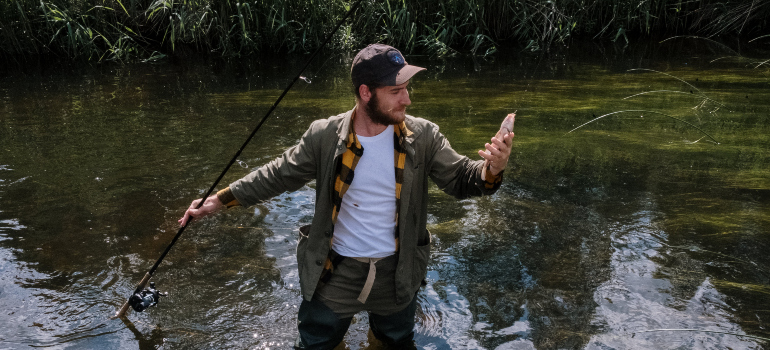 Burke Lake is a well-organized place with a guaranteed abundance of fish
Burke Lake is a 218-acre public fishing lake in Fairfax County. Located within the 650-acre Burke Lake Park the lake is renowned for its fishing opportunities. The species one can hope to catch there include largemouth bass, muskellunge, walleye, channel catfish, bluegill, and black crappie. Additionally, anglers might reel in white perch, yellow perch, redear sunfish, and occasionally, blue catfish.
Given its proximity to Washington, D.C., Burke Lake experiences high fishing activity. That makes it one of the most frequented reservoirs in Virginia. This has led fisheries biologists to actively manage the lake, ensuring its health and abundance of fish. Annual fertilization enhances the aquatic food chain, boosting fish production without negatively impacting downstream areas. Fish attractors placed around the lake create additional habitats, and regular stocking of walleye, muskellunge, and channel catfish maintains a balanced ecosystem. Electrofishing and trap netting are employed to monitor the fishery's condition.
Burke Lake, a popular fishing destination in Virginia, attracts both long-time residents and newcomers, assisted by movers Virginia offers. But bear in mind that visitors aged 17 and older are reminded to obtain an Access Permit from the Virginia Department of Wildlife Resources unless they have a valid Virginia fishing license or boat registration. This ensures everyone can enjoy the lake's abundant fishing opportunities and serene environment.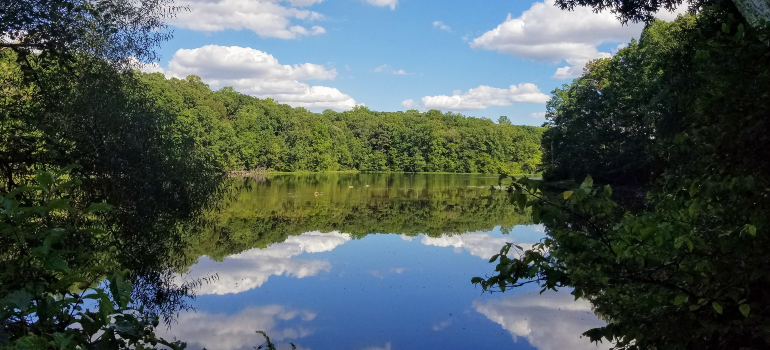 Cameron Run in Alexandria – one of the top fishing spots in the DMV area
Cameron Run in Alexandria is a prime urban fishing spot. In essence, it's a place that showcases natural beauty amidst city life. The waterway is well-stocked with a variety of fish, including catfish, bass, and bluegill.
In case you aren't sure, here's what you should bring with you to this fishing trip:
A medium-action rod and reel combo, suitable for a diverse range of fish.
Assorted bait including worms and minnows, which are favorites for the local catfish and bass.
A selection of lures, particularly smaller spinners, and jigs, to attract the attention of certain types of fish.
A sturdy fishing net to help land your catch without harm.
Comfortable seating and sun protection, ensuring a pleasant experience along the creek's banks.
The area around Cameron Run is bustling, yet the waterway itself offers a peaceful retreat. For those amid transitioning homes or need of extra space, there are convenient storage Alexandria VA solutions, ensuring your belongings are safe while you enjoy your fishing adventure.
The banks of Cameron Run are lined with trees and greenery, creating a picturesque setting for anglers. The water is clear, and the fish are plentiful, making it a favorite spot for local fishing enthusiasts. It is a place worth exploring.
Monocacy River in Frederick County lures with its variety of fishing options
The Monocacy River in Frederick County is a prime destination for anglers, offering 58 miles of accessible fishing spots. With options for wade fishing, canoeing, or kayaking, the river caters to all preferences. The upper section is particularly popular for fly fishing, targeting species like smallmouth bass, sunfish, and channel catfish.
Surrounded by forests, the fishing experience this river provides is serene. Moving companies Frederick  MD offers often find newcomers drawn to this angler's haven. Access is easy with multiple bridge crossings and Creagerstown Park, which also offers parking and a boat launch.
Anglers should come prepared with 4-5 weight fly rods and a variety of lures. That will increase their chances of a successful day on the water. Additionally, connecting with local fly-fishing organizations can enhance the experience through mentoring and community connections.
Planning your fishing day
To maximize your fishing experience in the DMV area, hit the waters at sunrise when fish are most lively. Also, you should bring friends along for a fun-filled day, extra help with gear, and shared fishing wisdom. Ensure you have all the right fishing gear, and pack a cooler with refreshments and protective equipment like sunscreen and a hat. A comfy chair is also a must for those leisure moments. The prime fishing seasons in this region are spring and fall. However, it's wise to research your specific location for the best timing. With proper preparation, your fishing adventure is bound to be memorable and successful.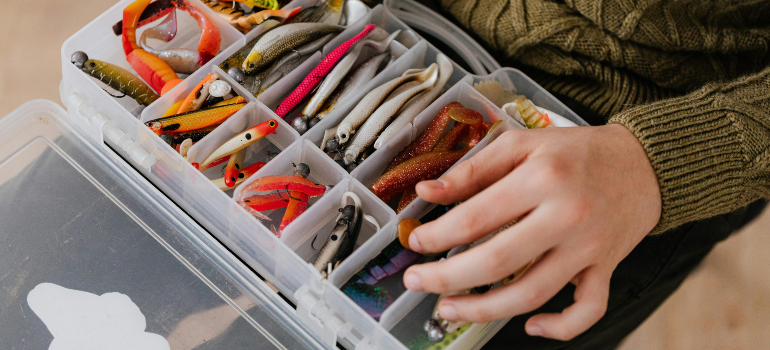 Don't choose between these top fishing spots in the DMV area. Visit them all!
As our exploration of the top fishing spots in the DMV area comes to a close, we can conclude one thing for sure. A true fishing enthusiast should visit all of these locations. The joy of the catch goes well with the scenic landscapes and the friendships among fellow anglers. We encourage you to embrace the adventure, respect the natural habitats, and cherish the moments spent in the great outdoors. The waterways in this region are a treasure trove of fishing experiences, ready to create lasting memories and ignite a passion for fishing. So, cast your line and let the water guide you to your next great fishing adventure.