Washington DC, the nation's capital, stands out in many ways. From the point of view of individuals looking to progress professionally, it's a great place to be. With its unparalleled career opportunities and other great aspects of living there, it's no wonder that the trend of moving to Washington DC as a young professional continues to gain momentum. Whether working close to the political heartbeat of the country seems attractive to you or you want to immerse yourself in a diverse and dynamic social scene, it all points to the same thing – DC has got what it takes. And when it comes to making the move, services like moving companies DC area offers can help you transition to this bustling metropolis with ease. With all that in mind, let's explore reasons why Washington DC is an ideal destination for young professionals.
1. Excellent job market
If one wants to expand their career, DC is a great destination where to do it. This is particularly true for young professionals eager to make their mark. The city's job market is incredibly diverse, spanning industries such as government, technology, healthcare, and education. This diversity ensures that no matter your field of expertise, there are opportunities waiting for you. In fact, DC consistently boasts a lower unemployment rate than the national average, a testament to its stable and thriving job market. For those considering a career move, Washington DC movers can fully take care of it, allowing you to focus on settling into your new role. The city has also experienced significant job growth in recent years, particularly in the tech sector. This further solidifies its reputation as a hub for innovation and professional development.
2. Networking and professional development opportunities are unparalleled
This city is teeming with think tanks, and non-governmental organizations, providing ample opportunities to connect with like-minded individuals and industry leaders. Here, you can attend numerous conferences, workshops, and seminars, all aimed at professional development. For example, specific groups and events tailored for young professionals include the Young Professionals in Foreign Policy, DC Tech Meetup, and various networking events hosted by the local Chamber of Commerce. Interestingly, the city's layout was designed by Pierre L'Enfant to be welcoming and open, which translates into the city's professional scene as well. These networking avenues not only facilitate career advancement but also contribute to the city's collaborative atmosphere.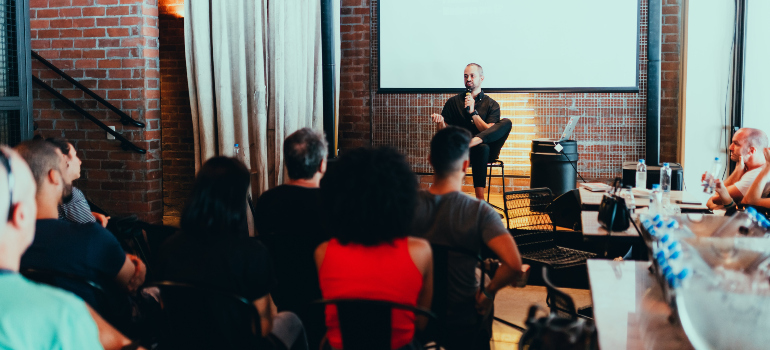 3. The cultural and social scene is fantastic
Life is not all about work, especially if you are young. As it turns out, DC has a lot to offer to make a life fulfilling for people of all ages. It nurtures various arts, music, and gastronomy, offering activities for young professionals to unwind and socialize. The city is home to numerous trendy neighborhoods, each with its own unique character and charm, providing a variety of options for living and entertainment. Those relocating to be closer to these cultural hotspots should know that services like furniture movers Washington DC is home to can help in transporting belongings safely. The city's cultural institutions, including world-class museums, galleries, and theaters, offer endless opportunities for enrichment and entertainment. Additionally, DC hosts a variety of annual events and festivals, celebrating everything from film and music to food and heritage. In essence, there's so much that makes a life beautiful in DC.
4. Access to education and learning opportunities
Washington DC is a prime location for young professionals seeking educational growth alongside their career. Home to prestigious universities and many continuing education programs, the city fosters a culture of learning and development. Many professionals take advantage of these opportunities, enhancing their skills while working. This commitment to education and personal growth is a standout feature of the city, providing a strong foundation for success.
5. Public transportation and walkability
The extensive public transportation network in the nation's capital is well-known. Thanks to this amenity, this city is a dream for young professionals who prefer to go about the city without the hassle of driving. The city boasts a comprehensive system of buses, trains, and even bike-sharing programs, ensuring that you can get from point A to point B with ease. In fact, a significant percentage of DC's residents, approximately 37%, commute using public transportation. It's one of the highest rates in the country.
For those moving offices within the city, services like office movers DC companies rely on, provide seamless transitions, further highlighting the city's logistical efficiency. Beyond the convenience, the city's commitment to walkability also contributes to a healthier lifestyle. With numerous parks and green spaces, residents find a balance between urban living and nature. So, this blend of accessible transportation and walkable streets both enhances the quality of life and fosters a sense of community among the city's young professionals.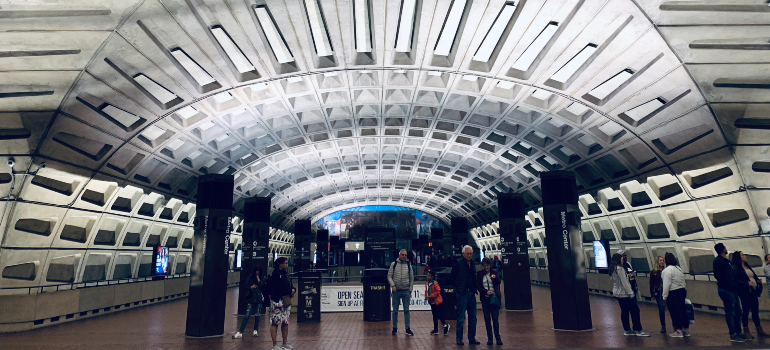 6. Political and social engagement
The nation's capital offers unique opportunities for political and social involvement. In fact, young professionals in Washington DC are at the forefront of advocacy, volunteering, and community initiatives. That way they make a significant contribution to meaningful change. The city's politically charged atmosphere encourages active participation, creating a community of engaged and informed individuals. This civic engagement not only enriches personal development but also fosters a sense of fulfillment and purpose. In fact, this is among the top reasons for moving to Washington DC as a young professional
7. Diversity and inclusion are at a high level
Among other things, this city is celebrated for its diversity and commitment to inclusion. In fact, the city's mixture of cultures and backgrounds enriches both professional and personal experiences. Initiatives supporting minority and underrepresented groups ensure equal opportunities for all. Young professionals often find a sense of belonging and community in this inclusive environment. Evidenty, in DC, the appreciation of different perspectives fosters unity and mutual respect, creating a welcoming and empowering city for everyone.
8. Many consider moving to Washington DC as a young professional because of the high quality of life
When it comes to standard of living Washington DC offers only the best. Its access to top-notch healthcare, safety initiatives, and an abundance of green spaces is to blame. Evidently, the city is committed to sustainability and environmental initiatives, with numerous parks and bike lanes encouraging a healthy lifestyle. In terms of living costs, while DC is on the higher end, it is balanced out by competitive salaries and a lot of free cultural activities. Residents enjoy a variety of amenities, including:
Access to world-class museums and historical sites, most of which are free.
A diverse culinary scene catering to all tastes.
Numerous community events and festivals throughout the year.
And did you know that DC residents are known to live longer than the national average? This statistic underscores the city's focus on well-being and quality of life.
Why DC is the place to be
Evidently, there are some strong reasons for moving to Washington DC as a young professional. With its amazing job market, educational opportunities, and diverse community, the chances for professional and personal growth are excellent. Apparently, the city's commitment to inclusion, civic engagement, and cultural richness makes it an ideal destination for those looking to thrive in their careers and lives. DC is not just a city. It's a community ready to welcome and nurture the next generation of leaders and innovators.