Moving to Alexandria VA would mean that you get to experience the charm of a small town, and the amenities of a big city. The city offers an amazing quality of life as well as many things to do and see. Alexandria has always been a favorite destination for living. No matter what your interests are, Alexandria always has something to offer! That's why we as one of the best moving companies DC area are here to present 6 reasons to move to Alexandria VA. Let's see what makes Alexandria so appealing!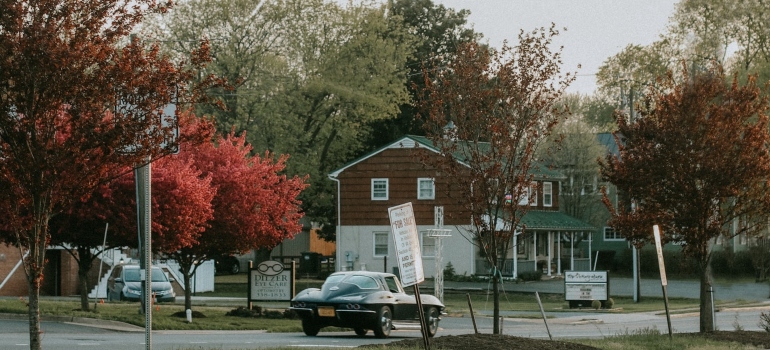 1. Old Town
Old Town is the city center of Alexandria VA. It is the place to be if you're searching for fun activities, fine dining options, or some good entertainment. This neighborhood is located on the Potomac River and offers many boutiques, restaurants, and housing options. Take a stroll down King Street! You will see centuries-old architecture, cobblestone alleys, and a bunch of glimmering lights during the holiday season.
Alexandria VA is a city that's been standing even before the American Revolution. As you can expect, it's full of history and it's waiting for you to get to know it. Wherever you go, you are likely to stumble upon a museum. Some of the most popular are the Carlyle House, a Georgian manor that used to be a social hotspot in the 1700s. Also, Gadsby's Tavern Museum where the first five US presidents resided. These are only a few, but when you start exploring the Old Town, you will see just how hard it is to stop!
2. It's safe and walkable
There are four main neighborhoods in Alexandria, including Old Town. Each of them is unique in its own way with amazing 18th and 19th-century architecture. Lovers of an old architecture style will find great joy living in Alexandria. The neighborhoods are Old Town, Del Ray, West End, and Carlyle/Eisenhower. They each offer amazing art, dining, and shopping options, along with a lot of history. Most long-distance moving companies Northern VA would agree that Alexandria is the place to be.
Another one of the reasons to move to Alexandria VA is that the entire city is walkable. Even though almost everyone nowadays has and uses cars, it is amazing when you move to a location where you don't need a car. You will get a bit more activity during the day and enjoy the outdoors. You can also use the well-developed public transport, or bike around the city which is also very popular. Alexandria offers a slower pace of life and you can enjoy each day to its fullest.
3. Hungry? Not for long!
In Alexandria VA you can expect a variety of restaurants from family-friendly to upscale fine dining. Additionally, there is a good number of award-winning restaurants in Alexandria. Whether you would like cocktails or BBQ, Alexandria restaurants offer it all. Some of the most popular restaurants to visit include Hank's Oyster Bar, Columbia Firehouse, Aldo's Italian Kitchen, and many foreign cuisine options like Indian, Nepalese, Balkan, etc.
So, if you're feeling adventurous, the best way to go about things is to visit a different restaurant each evening. You will get to try something new, maybe even expand your palette. And you will never, ever go hungry in Alexandria VA.
4. Recreational activities
Alexandria has around 950 acres of natural landscapes. This includes 70 parks and 30 recreational centers, so you can tell that Alexandria is heaven for lovers of the outdoors. We've already mentioned biking, but did you know you have an insane amount of pathways along the Potomac River? On this ride, you are bound to go through a number of parks and get all the fresh air you need. The Cameron Run Regional Park has a water park with a wave pool, water slides, mini-golf, and even more amazing activities. Also, Alexandria features many more, several golf courses, country clubs, and many activities on the Potomac River. If you're downsizing and storage Alexandria VA is something that's causing you stress, you won't need to worry. You can choose from some of the best storage units in all of Virginia.
Additionally, the city of Alexandria has a lot of festivals, various events, and even celebrations all throughout the year. This will provide entertainment during the whole year, for all ages! All the activities in this city are family-friendly and a good number of them are even dog-friendly. Alexandria is famous for its love of dogs, and they are valuable guests almost everywhere.
5. The perfect location for STEM students
We can all tell just how much emphasis is placed on STEM education. And rightfully so, the young students are the ones carrying on and changing the future and that's another of the reasons to move to Alexandria VA. Thomas Jefferson High School for Science and Technology is one of the best high schools in the entire nation. And it's located right in Alexandria! The city also offers 18 public schools and 6 private schools ready to accept new students at any time.
Also, there are actually a lot of job opportunities in Alexandria with STEM education. In 2017, the National Science Foundation found its new home in Alexandria, bringing a lot of job openings. The various piano movers Northern Virginia will help you with your prized piano! So you don't have to worry about it.
6. Close to DC, without having to live in DC
Alexandria is an outdoor, natural oasis, focused on outdoor activities. We can't say the same for DC. This just means that if Alexandria is your choice, know that DC is a 15-minute commute away. The metro will quickly take you from point A to point B. So, finding a job in DC is completely manageable.
Now that you've read our 6 Reasons to move to Alexandria VA, we hope you make the best decision for yourself. Alexandria is waiting for you!