Furniture Movers Washington DC

GET YOUR FREE ESTIMATE
"*" indicates required fields
When it comes to moving your home or office, one of the harder parts is the heavy lifting and hauling furniture. Not only is furniture heavy, making it difficult to carry it, but it can even cause certain injuries if you're not careful. Well, that's exactly why A2B Moving and Storage DC is here to give a helping hand. When working with our team of experienced and trained experts, you don't have to worry about packing, moving, and carrying your furniture. Our team of furniture movers in Washington DC is here to safely and efficiently relocate your furniture from your current home to your new address. So, give us a call and rely on us to take care of the heavy lifting.
Work with movers with over 24 years of experience
When hiring movers, you're expecting to work with people who know the ins and outs of the moving industry. Well, when you decide to work with our Washington DC furniture moving company, that is exactly what you're getting. We're a company that's been in this business for over 24 years. Therefore, our movers have plenty of experience, skills, and training that allow them to handle your relocation with ease. You can count on their help and guidance no matter what kind of relocation you're planning and what you need help with.
Save time and energy by hiring our furniture moving crew in Washington DC
Oftentimes, when planning a relocation, preparing furniture for the move and transporting it is one of the bigger challenges. It requires the right techniques, strength, and at least one pair of helping hands. Still, you can end up injured in the process and your furniture pieces might get damages. Luckily, there's a simple way to avoid those issues.
If you want to make furniture moving easier, less stressful, and quicker, all you need to do is give us a call. Our expert furniture movers in Washington DC are here to take care of this task seamlessly. They have the right equipment, tools, and know-how that enable them to properly take care of moving your furniture. By working with our professional movers in Washington DC, you're saving valuable time and even energy. You don't have to think about how to maneuver your king-size bed through the door – let our experts do that. We're here to make sure your move is smooth and effortless.
How our furniture movers Washington DC can help
Furniture movers are professionals in their field who have years of experience, practice, and training. Therefore, they can help you every step of the way in order to make sure your furniture arrives at the new address safely. Here's what you can expect from our furniture movers when relocating in Washington DC.
Disassembling and reassembling your large furniture pieces
Carefully wrapping and packing your furniture
Carrying and maneuvering your furniture out of the house
Properly loading your furniture onto the truck and ensuring safe transportation
Using appropriate, high-quality tools and equipment
Safe delivery of your belongings
Unloading the truck and unpacking your possessions
So, if you're moving within the Washington DC area and you need the guidance and support of experienced professionals, you can count on us.
We will help you move your home or business
Every relocation comes with its share of challenges and obstacles. Whether you're relocating your house or business, it's usually not a walk in the park. One of the things that makes relocating difficult is hauling heavy furniture or office equipment. These things require special care and techniques.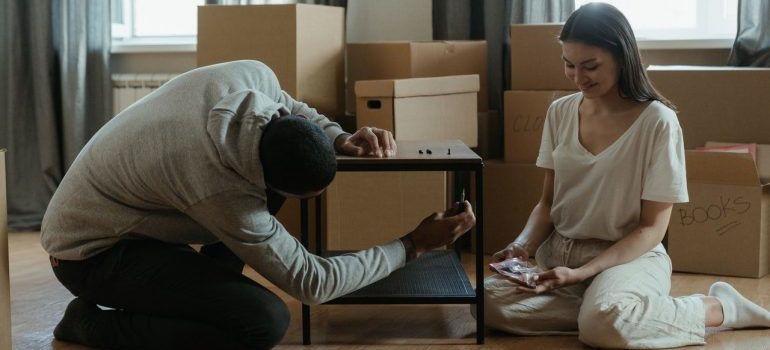 Luckily, our furniture moving company in Washington DC is here to help you no matter the type of move you're planning. We have both office movers and residential movers who are here to make your life easier. We want to make sure your furniture and office equipment is relocated scot-free in order to provide you with an easier and stress-free move.
Need storage for your furniture? We have what you're looking for
When planning any kind of relocation, most people decide that getting a storage unit is something that can make this process much easier and smoother. We agree, renting a storage unit is always a great idea. So, in case you're looking for a safe space where you can store your furniture for a while, you're in the right place. Not only do we offer a great team of furniture moving specialists in Washington DC, but we can also provide you with reliable storage.
If you're thinking of getting a storage unit, one of your priorities is probably the safety of your belongings. Well, we're here to offer you our storage facility that is safe, reliable, and completely sanitized. You don't have to worry about pests, rodents, humidity issues, or other potential risks that can come with renting storage. Our premium units come at competitive prices, making them the perfect combination of affordable and great quality. So, if you need to store your furniture, office equipment, or anything else, get in touch.
Contact us today and avoid stressing about furniture moving
Relocating comes with many challenges as it is, you don't need the stress and hardship that comes with moving your furniture. Luckily, you don't have to handle this task on your own – you can count on our help! A2B Moving and Storage DC is here to provide you with an effortless, stress-free move by offering some of the best furniture movers Washington DC. Give us a call today if you want to avoid hauling your furniture and dealing with stress while moving. Let us help!
Get in Touch
"*" indicates required fields