Office moving is an intricate task that can take a bit of time. One of the biggest challenges of relocation is moving around our furniture. Furniture tends to be big, bulky, and heavy. Automatically you'll either need some manpower to help you out, or you could try disassembling desks in your office before the move. Carrying and moving heavy furniture on your own can be very complicated and you could risk injury. As one of the leading moving companies DC area, we'd like to help you with a practical guide. Today, we'll show you how to disassemble desks and what to do next!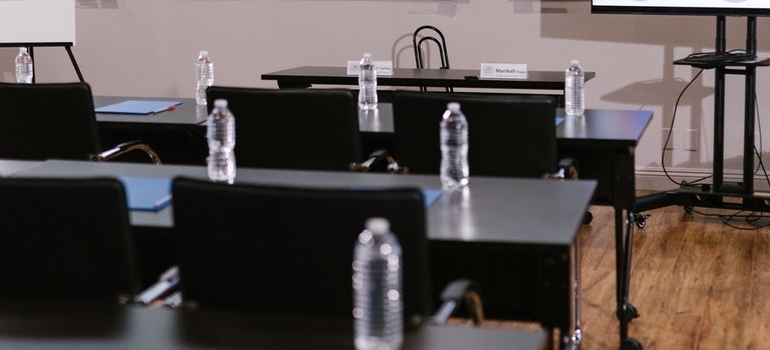 What you need if you're moving without movers
The best way to relocate your office and your desks is by hiring office movers DC. Movers know exactly how to go about disassembling and packing. Also, there will always be more movers than there will be you. And each task during the disassembling and moving is so much easier with some help. But, we do realize that not everyone wants to spend the extra cash on hiring movers.
So, if you'd like to save the money you'd spend on movers, you can just ask some loved ones to help you out. Ask family and friends if they have the time to help disassemble and protect your desks. If you create a sort of 'moving team', you'll have fewer issues with moving. If you're moving the desks long-distance, we'd urge you to reconsider hiring professionals. But, for a local move, your friends will be more than enough help.
Packing materials
Before we get to disassembling desks in your office, you need to prepare the materials you will need. The furniture needs to be protected during transport. And, even if you're moving a short distance, it's still smart to protect your desks. It just takes one unfortunate bump in the road to create chaos if the desks aren't protected. Yes, it will take some time to do, but it is more than worth it.
Here's a list of  materials you need:
Boxes – For your desks, boxes are optional. You can safely transport all the parts of the desks even without using boxes. But, it never hurts to add another layer of protection.
Protective blankets – When you cover all of the items you're transporting, you can rest assured they are safe.
Bubble wrap – Either for some delicate items that are placed on the desks or for smaller parts of the desks themselves.
Packing paper – Another layer of protection. Trust us, it's always better to be safe than sorry.
Packing tape or duct tape – You need something to secure the packing paper or the boxes.
Also, if you still haven't rented the new office space, remember that many moving companies offer storage services. Instead of cluttering your home with unnecessary boxes, leave everything in a temporary storage unit. It will be waiting safe and sound until you return.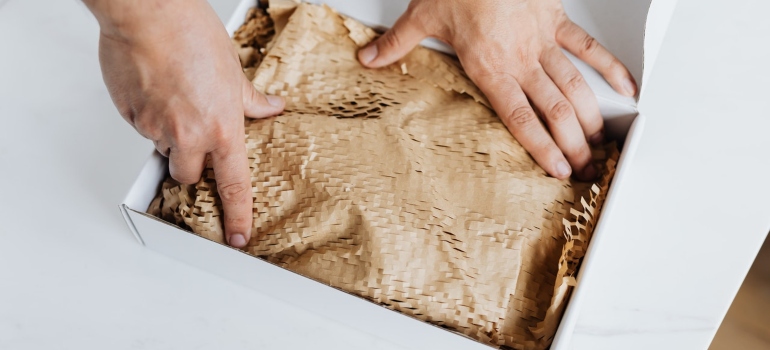 How to go about disassembling desks in your office for the move?
In order to move your desks the most efficiently, you need to disassemble them. And now, we'll take a look at some of the easiest ways to do that.
Disassemble
First, you should remove any sections of the desk that can be detached safely. This will make the desk smaller and easier for packing. Also, if you remove some of the detachable parts, you're making the desk much lighter and easier to pick up if needed. 
A good way to start is by taking out the drawers and all movable trays (for example, a keyboard tray). Now, you can leave the drawers as they are with everything inside of them and just cover them with something so nothing falls out. Many modern desks have glass accents. If your desk has these glass elements to it, make sure to remove them before the relocation and pack them separately.
Next, you will need a screwdriver to unscrew all of the legs off of the desk. Ideally, in the end, you will be left with a big rectangle, four legs, and all of the drawers and trays separated. The small metal elements you unscrew from the desk you can keep in a little bag for transport.
Wrap the elements for transport
If you have any glass elements, they need to be the first ones you pack up. We'd recommend putting two layers of packing paper to secure the glass the best possible. And also a layer of bubble wrap! Glass is, of course, exremely fragile, so make sure to pack these parts into boxes in the end and label them as fragile. If your desk has any protruding decorative elements, be sure to wrap them up in bubble wrap as well.
Pro tip: Don't place bubble wrap closest to the varnish on the wood! First use a layer of packing paper, otherwise you might just stain and destroy your desks. So, use packing paper, then bubble wrap, then packing paper again if you wish to have even more protection. Also, keep in mind that you can hire movers DC at any point during your commercial move. Many of us can overestimate the time we have, or our own capabilities. If the move becomes too taxing, you can easily find movers to help out.
Pack the drawers
You can use stretch wrap or bubble wrap and packing paper to cover the drawers completely. Hopefully, they're full of light items and can just be packed like that. If they're full of heavy items, pack those items individually and leave the drawer empty.
Protect the desks
For the main frame of the desk we recommend the protective blankets. They are the perfect material that won't damage the desk and will keep it nice and safe.
We hope we've helped you with disassembling desks in your office and good luck moving!