There is no better way to move than with the help of moving professionals, we have made that clear. They will do all of the difficult and important tasks of moving for you. All this will be done while you have time to focus on the important things. A2B Moving and Storage will gladly do this for you. But everybody talks about how to find and hire movers, but the moving contract is often overseen. Like before signing anything else, you should be reading a moving contract with caution. In this guide, we will teach you what to pay attention to before giving your signature.
Tips on reading a moving contract with caution
Caution should always be used, but it is especially important when signing contracts. Moving with some movers Bethesda MD means that they will move everything you own, which isn't a small thing. Because of that, you should be reading a moving contract with caution, to know what you are getting into. To prevent problems and misunderstandings, you should pay attention to the following:
Service description
Payment
Confidentiality
Additional charges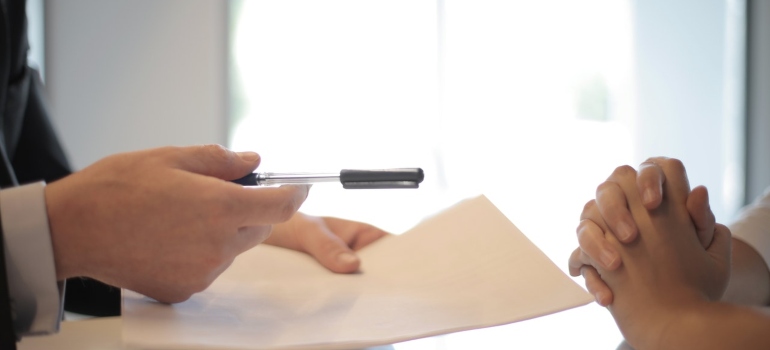 Service description
This is normally the first section in your moving contract. As the name suggests, it describes all the moving services that you want to receive from one of the moving companies Frederick MD. Make sure that all the services that you need are included in the list. If that is not the case, don't forget to tell to your movers. As like expected, if you add additional services to the list, the final moving estimate will be higher.
Payment
In this part of the contract, you will see the way that your movers are expected to be paid, when, and what can happen if you don't. Depending on how you agreed before you will either pay a set fee or an hourly rate. This section should get the most of your attention. Once you sign the contract, you will have agreed to everything that this section lists, so be careful.
Confidentiality
This section is can be found in almost every contract, not just moving contracts. It states that your movers won't share any information regarding you or your move during the duration of the contract.
Additional charges
The majority of reputable local movers DC will inform you about additional charges before the move, most likely in this section of the contract. These costs are connected to some variables that might or might not occur during your move. For example. if your movers cannot park in your street but have to carry the items to a nearby alley to load the truck, you might expect to pay some additional charges.
Conclusion on reading a moving contract with caution
The purpose of reading a moving contract with caution is to avoid troubles with your movers in the future. It is understandable to be under moving day stress at this time, so you might miss something. For that reason, we insist that you put the time into reading your contract thoroughly and then sign. We wish you success and good luck!