It would be ideal to keep your children with relatives during the preparation time. More importantly, they could be with relatives during the loading process. This is especially beneficial when kids are small. They can walk unnoticed into the area where you are packing. Or they can unintentionally cross the path with movers carrying heavy loads. So, in both cases, they can easily hurt themselves. In case you can't secure the childcare during the relocation period, you can think of other solutions. There are ways to keep your children entertained during relocation to Bethesda. In that way, you will also protect them and the movers DC area. So, let us see how you can do that.
Keep your children entertained during relocation to Bethesda with things they love
What to do when you have two or more children of different ages? The chances are that each will like the different entertainment. In the case of DIY packing, the older ones can help. Ask them to pack their possessions. The smaller kids and toddlers you can entertain with games. You can give them some spare moving boxes. Also, supply them with some stickers, glitter pens, and markers. Ask them to decorate the moving boxes nicely. Still, keep an eye on them. Small kids and toddlers are losing interest very fast. So, you will probably have to change entertainment often. You can also engage them with:
Music and dancing competitions
Reading picture books
Playing some cartoons on a tablet
Playing some board game
In case you are living in a house put a blanket in a safe place on the loan. So, the kids can play outside with their favorite toys. In case the furniture movers Washington DC are assisting you, organize a small picnic for kids.
When you are relocating with children to Bethesda, it's wise to ask for help
During the packing and loading period, the kids will be safest with you. So, any help is welcome. You can have relatives and friends offer help. Accept it. Or you can hire professional help. There are actually many perks to hiring the movers Bethesda MD. You can fully rely on them to provide you with the best packing solutions. Also, you will not need to think about packing material. As well, they will come on a moving day with all the necessary tools for safe loading.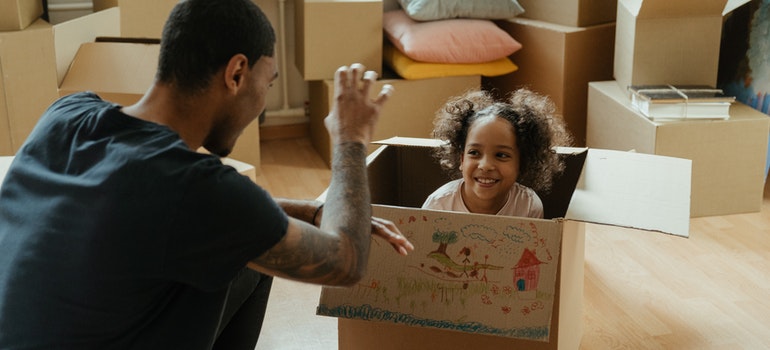 During that time, you can, together with your children, prepare the essential begs. Letting kids help you will entertain them. Also, you can take them out for a walk. They will be very happy to eat in a restaurant. And to have an ice cream or a cake in a pastry shop.
Let your children spend time with their best friends
When moving, the hardest moment for your kids is leaving their friends. So, let them spend more time with their friends. You can also check with their parents if your kid can come over for a day or two. This is especially welcome if you are moving from an apartment. That way, the DC apartment movers can easily pack your entire household.
You can make relocation to Bethesda with children simple by keeping them entertained
In general, moving is a demanding task. Moving with children is even more demanding. However, you can introduce some activities to keep them busy during the move. So, the small ones will get neither hurt nor bored during that time. Introducing various games, and activities will keep your children entertained during relocation to Bethesda. That way, everyone will be more relaxed. And moving will go on smoothly.