When someone has to move both to the new home and the new location, it is hard to plan everything. Especially if you are moving long distances, you must think of every detail. It is easier to move down the street, at least it is not that much far away. At least, the rest of it is the same for long distances, like for short ones. Besides that, you need to pack all your clothes and belongings, you also need to prepare your furniture for your long distance move. A2B Moving and Storage can take a lot of your back, by assisting you in organizing and planning everything! With the little big things and the little ones, from planning the whole relocation to preparing your furniture for a move. Don't worry, with some tricks and tips, you can do everything in no time with all the process.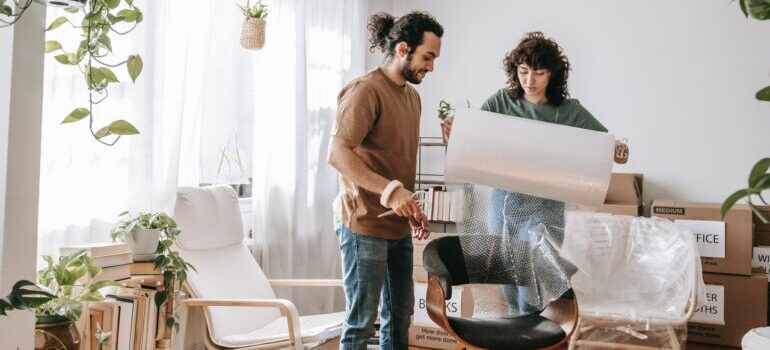 Prepare yourself for the move also
Keep breathing and avoiding stress, and later you can brag about how you moved in a short and effective time. There are a lot of ways to chill out and reduce stress. You can always find some little things that can help you stay relaxed while you are in the process of preparing for a move and the move itself. Don't forget that's normal to feel pressure when you are changing your life. It's normal to feel strange and to "have stage fright" because of the new house, a new city where you are moving. It is similar in some way to walking to the "stage" of someone's new life, even if you are doing everything to prepare yourself for the change. Find the moment when you are ready for the preparation and packing. Just start from the beginning and on time – the stress will be at a minimum.
How to prepare your furniture for long distance move?
The first thing that you must do is find packing supplies that will help protect your furniture. You need something for covering, wrapping up the parts that you will reassemble, etc. Here is the list of examples, if you find some replacements, that is ok also. These are the basic ones that can help you organize and prepare furniture for long distance move.
Sofa and mattress cover
Corrugated cardboard sheets
Moving blankets
Bubble wrap
Plastic stretch wrap
Furniture pads

Use all the cushioning supplies, covers, etc… to protect your furniture.
Clean before moving
Clean your furniture before the move, it will be easier to unpack and assemble later in the new house. It is better to clean already cleaned materials again than to clean when the dust is accumulated. Also, the dust will get into the way of wrapping, and when you reassembling all the furniture at the same time, dust will be disturbed. It isn't healthy to breathe in the dust, even if it is a small amount of dust. Also, having everything clean will help with the rest of the packing, not just for preparing furniture for moving. There are always good moving and packing tips that can be helpful, combine that with cleaning, and you will also save time.
Reassembling the furniture to save up space and get better protection
Get what you need for reassembling the furniture. For example, screwdrivers are the essential ones, and in this day and age – may be enough for the furniture one modern house have. Nevertheless, if you need anything else, get that tools also, so you will have everything in one place. Saving time is always good and having it all in one place is easier for everyone.
Reassembling furniture tips:
If you can remove the legs and tops from all tables
Take bed frames entirely apart, including the headboard and footboard.
You can also remove knobs and other removable pieces from dressers and desks.
Remove the cushions from the couches and legs if you can, and also you can remove the legs from chairs.
Pack prepared furniture
Furniture movers Washington DC can assist with moving part and organization if you need it. You can also find someone to help you pack and prepare everything for packing. Packing furniture can be difficult if you pack by yourself. Professionals that pack and move furniture are there for you so your back wouldn't get hurt. So, if you want to pack alone, carefully move and lift stuff. 
When packing, don't forget to:
pack carefully small parts of reassembled furniture – use some box and/or zip bags. If you lose them, it will be complicated to find a replacement for assembling the furniture.
label the parts of reassembled furniture – it best to use one bag/zip bag for all the parts that you removed from one piece of furniture. Label the bag so you will find easier the parts that you need for that furniture you will assemble again.

Don't lose the small parts of your reassembled furniture!
Use all the cushioning supplies to wrap up the parts of furniture, put what you can into the boxes and cover the furniture that can't be put into the boxes.
Besides preparing the furniture, prepare the rest of your belongings
When you prepare your furniture for long distance move, you also need to think about the rest of the belongings that you need to pack.
Before the reassembling, it is better to pack all of the clothes, in the way that boxes can be put aside, not to be in the way of packing the rest.
You can pack the kitchen at the end, and in the meantime, you can use it for reassembling some part of furniture if you have enough space.
Everything small and sensitive better to pack before reassembling and after the first stage of packing when you pack for example books and clothes.
At the end of all the preparing and packing the DC apartment movers are there for you to help with the moving part also.
Getting to the new home
You prepare your furniture for long distance move and then you just need to assemble it. When you finish the move, you can start unpacking. Assembling the furniture could be the first stage now on a to-do list in the new home. After that, the rest of the unpacking will be easier. Having a wardrobe makes unpacking clothes more manageable. The main stress becomes now just a situation where you have to get back to your normal self. In no time, just relax and rest, and you will be starting to look at your new house like a home.