Moving brings with it a lot. Financial difficulties, the chaos around the packaging, and worries about how you will be in your new apartment and neighborhood. However, one of the biggest concerns you need to consider is your children. It is likely that if you find it difficult to move and separate from your current lifestyle, it will be much harder for your children. That is why it is very important that moving with kids to Ashburn is as carefree and cheerful as possible. Consider hiring one of the best moving and storage Alexandria VA so you can fully dedicate yourself to them!
Moving with kids to Ashburn? Don't worry!
When you moving with children to Ashburn it is very important that you organize your move well. The new environment for your children will be difficult at first, but it can be even more difficult if the move itself is hard and stressful. Try not to show that you are nervous and that it is difficult for you in any situation.
Children can feel your dissatisfaction and therefore they will feel bad, and at the same time, it is harder to adapt to the new environment. That is why it is recommended that you hire reliable moving companies Ashburn VA when moving so that all the burden of moving falls on the employed professionals, and you can dedicate yourself to your children, and the time spent with them.
Prepare your kids first
Like us, children don't like change either. That's why a sudden relocation with kids to Ashburn can be a shock to your little ones. It is very important to prepare them for what is to come before moving. Depending on the age of your children, you can explain to them that moving is something that is completely normal and that it just works that way.
You can also show them pictures of Ashburn so that the children can see some interesting things and sights that will make them love a new place even before they get there. The very important thing is to announce to them that people from the best movers Alexandria VA will help you with the move! In that way, the children will be acquainted with the situation and there will be no difficult periods for them on the day of moving and packing, as well as at the new address.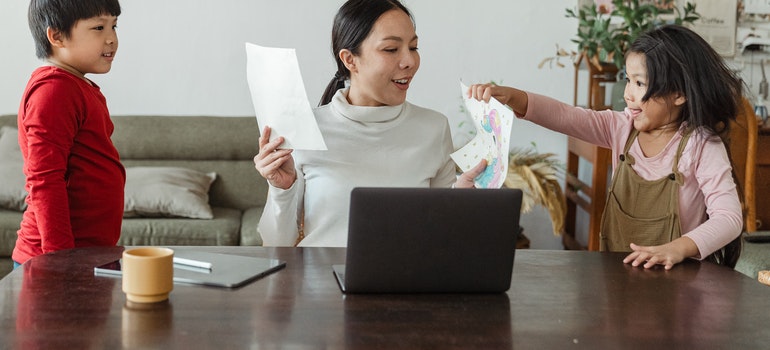 Activate them on the day of moving
Another important item when it comes to moving with toddlers to Ashburn is that when the day of moving comes, they are not neglected. Of course, everyone is aware that children cannot help much, but these jobs will make them happy and satisfied. Children love to be involved and help adults. It will also be easier to adapt to interstate movers VA and it will not be difficult for them to take these people out of their room. Small jobs can be ideal for your children, such as bringing a refreshing drink to someone or possibly packing some small things such as books or small photos in an already marked box.
Things to do in Ashburn with kids
Heritage farm museum
Leesburg animal park
The Zone
Rebounder indoor trampoline arena
Sport rock climbing center
Claude Moore park recreation center
I FLY indoor skydiving – Loudoun
         Heritage farm museum
This quaint museum shares the history of Virginia farming, and kids will be thrilled by the opportunity to ride pedal tractors. But the real fun is on their "farm days," which feature everything from the apple festival to milking a real cow. There are also monthly Parents' Night Out, each with a different theme.
Leesburg animal park
This small animal park is a local favorite, and it's no wonder — what kid wouldn't love riding a pony or camel? Visitors can get up close and personal with llamas, monkeys, lemurs, parrots, giant tortoises, and more. They offer a wagon ride and a playground as well.
 The Zone
Guaranteed fun for hours, the Zone features great ambiance and state-of-the-art gaming like laser tag and an arcade. Parents will love the food and the delicious drinks. Pro tip: On Tuesday nights, kids eat free with an adult purchase.
Rebounderz Indoor trampoline arena
For days when the weather isn't great (or even if it is!), your kids can get all their energy out at Rebounderz, which features wall-to-wall trampolines. Basketball, dodge ball, and a ninja warrior course give enough variety that kids won't quickly lose interest.
Sport rock climbing center
A local favorite for a fun day out and birthday parties alike, Sports Rock's climbing facility offers a variety of climbing walls for various skill levels and fantastic staff.
Claude Moore park recreation center
Locals love Claude Moore Park, which not only provides the expected facilities of a rec center, but also a unique green space. Visitors love to stroll the wooded lanes, green meadows, and sparkling ponds. Kids will love the wild deer, ducks, and other wildlife.
I FLY indoor skydiving – Loudoun
Surprise your kids with a unique day out at I FLY, where they can "skydive" indoors. Stand inside a special room where the air blows up and makes you feel like you're flying. The staff helps kids and adults learn how to maneuver in the air, making for a fun and challenging experience like no other.
Happy kids, happy you!
You will certainly find many more interesting things to do with your children in Ashburn. These are just some of the interesting things that have been proven to attract the attention of little ones. Every time you leave the house with your child, it will further help him to adapt to the city and new area. If you want and have opportunities, make your child happy with a dog if you don't have one, because Ashburn is full of promenades and parks where your children will be able to have fun with their pet.
Moving with kids to Ashburn does not have to be a difficult and complicated process if you follow this simple guide. Dedicate yourself to your children before moving, and after moving, give them what every child needs – a little attention and a lot of fun. If you succeed, everything will be as you imagined, and your child will be happy in Ashburn! Good luck!