Packing for an upcoming relocation to DC brings along a lot of stress, chaos, and uncertainty. Most people dread packing fragile items because they are easily damaged. Some of the most intricate items to pack are electronic devices. If not packed properly, you can end up losing a lot of money and precious data, too. If you are worried about packing electronics for your DC move, we are here to help. There are plenty of moving companies DC area offers, so the best-case scenario is to hire professional movers to handle packing and moving your belongings. Here are our most valuable tips for properly packing your electronic devices.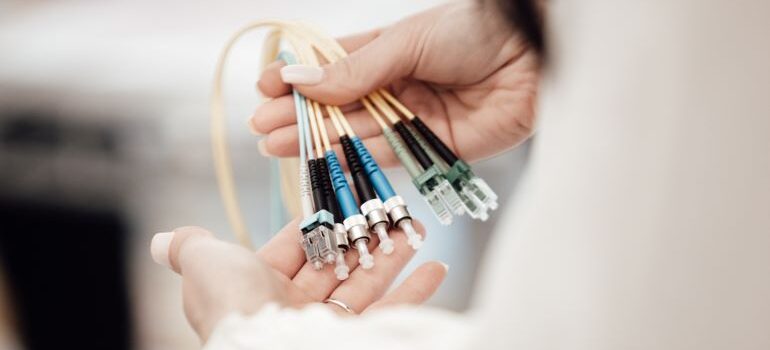 Packing electronics for your DC move- how to do it right
When you decide to tackle packing your electronic devices there are some steps you should follow to ensure maximum protection. Here are some tips for proper handling of electronics when moving to Washington DC:
backup all your data before you start packing
use the original boxes your devices came in
take pictures or label the cords before unplugging them
use a lot of packing supplies to protect your electronics
get professional packing services
Backup all your data
Before you even start packing your electronic devices, don't forget to backup all your data. If you are not experienced in packing sensitive items such as computers, for example, you want to make sure all your important files, photos, etc. are backed up and saved. That way, if something suffers damage you will not lose all your personal or business data. If you decided to get moving services but to pack on your own, you need to be extra careful.
Packing electronics for your DC move? Use their original boxes
If you have the option, pack your electronics in the box they originally came in. This is the safest way to pack all your devices since you can usually find specially shaped Styrofoam pieces that are useful for protecting the device against damage. Usually, such pieces will be put on the corners of a flat-screen TV, for example. That way you know your TV will not break in transition. Local movers DC have a lot of experience in moving all sorts of office and household items, but even they cannot prevent the damage that improper packing can cause to electronics. When it comes to large but fragile items such as electronic devices, all it takes is a small bump on the road for irreversible damage to occur if they are not packed properly.
Take pictures of all the cords before unplugging them
In order to avoid confusion with all the cords, try taking pictures of your devices before unplugging and disassembling them. You might think there is no way you will confuse a cord with another one, but once they are all on a pile or in a box, it would amaze you how similar they all are. You will spend an eternity trying to figure out what goes where before finally managing to crack the code and match the cord to the device. That is where snapping a pic before unplugging comes in handy. If you are relocating your business to Washington, hire office movers DC. Time is money in the business world, and you don't want your company to suffer while you try to put everything up after the move. With professional moving assistance, your business will be relocated and ready to start working again with minimal downtime.
Use a lot of Styrofoam, bubble-wrap, moving blankets, etc.
If you don't have the original boxes your devices came in, make sure to use enough packing supplies to provide maximum protection. Use a lot of bubble wrap for your laptops, TVs, etc. If your flat-screen TV is large, don't put anything on top of it. Heavy boxes can severely damage fragile LED screens. Wrap your TV in bubble wrap, then in a moving blanket, and put it up against a moving-van wall. You can also put Styrofoam pieces on the corners of your devices for additional protection. Remember, you cannot over-protect your electronics, but you can easily not pack them properly and ruin them.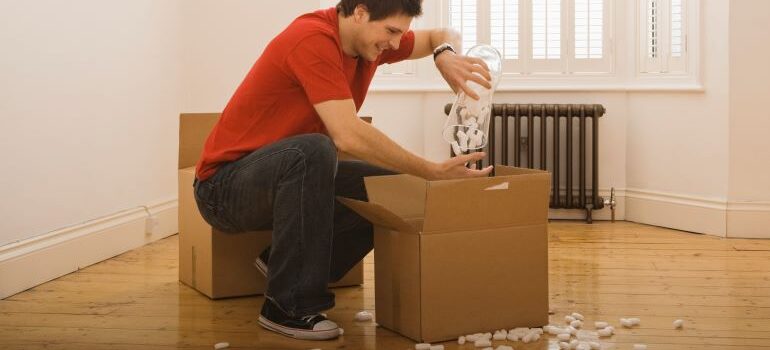 Get professional packing services
If you have a lot of electronics and are not sure whether you will be able to pack them safely, hire professionals to do it. Long-distance movers DC include packing in their moving services. Letting skillful movers handle packing for you will not only result in less burden on your shoulders, but you will also be certain your belongings are packed properly. Moving companies provide extensive training for their employees. Meaning they can safely pack and move all sorts of items, including electronic devices. They know all about the special conditions that moving electronics requires, so you don't have to worry about anything.
Have trouble packing electronics for your DC move? Let us handle your relocation from start to finish!
If you are moving to Washington DC, let us do all the hard work for you! Moving can be stressful, and oftentimes a lot of precious possessions get lost or suffer damage in the moving process, but not with the help of moving professionals! Our employees will tackle your belongings as if they were their own. You have no reason to dread moving day if you opt to use our services.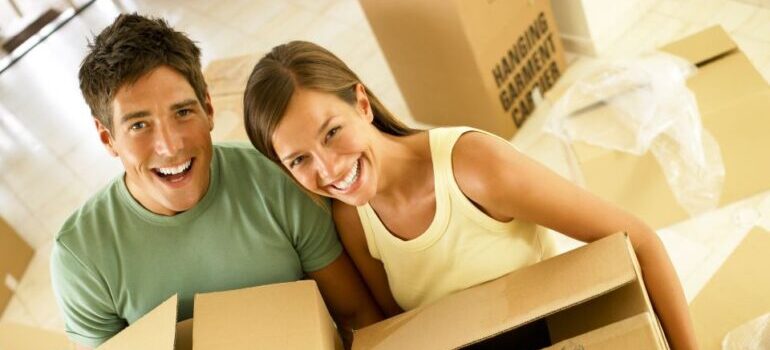 When it comes to packing electronics for your DC move, you should follow some steps if you don't want to lose your pricey devices. Firstly, you want to backup your data in case your devices do suffer damage. But, in order to prevent that from happening, you can do your best to protect them by putting them in their original boxes or using a lot of bubble wrap, moving blankets, and Styrofoam pieces. Your best option would be to hire moving professionals to do the packing for you. That way you can be at ease that all your electronic devices will be properly handled with no fear of losing them due to damage.