Moving supplies represent the core of every safe relocation process. These various items play a big role in protecting your belongings from all sorts of outside factors. However, many people seem to turn their heads when having to choose more than a couple of these supplies for their move. Yes, we understand that having to acquire so many items might be overwhelming. However, needless to say that these items provide the best and ultimate protection for your items during handling and transport. Because of that, today we will talk about packing supplies to get before moving from MD to VA and why you need them. If you are not sure where to buy them or what supplies you need, consider contacting A2B Moving and Storage to help you. Now, the list we will go through should help you understand the role each packing supply has in the packing process.
Packing supplies to obtain before moving from MD to VA
Relocation, in general, is quite an overwhelming and difficult job to go through. However, looking at any job, you will finish it easier if you have the right tools for it. Well, packing supplies are the tools you want to use to ensure you finish the job properly. Furthermore, it is hard to actually group any packing supplies in specific groups. But, if we were to try, it would fall under these groups:
Containers
Protective materials
Reinforcing materials
Labeling supplies
Tools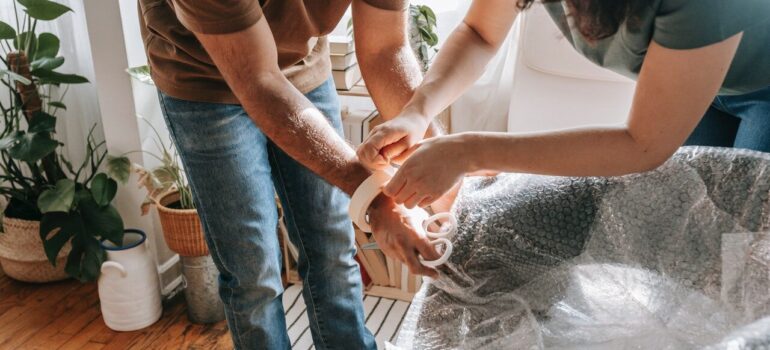 So, whether you decide to call interstate movers MD or approach the relocation process yourself, know that using the right materials when packing is very important.
Containers
The first supply we want to talk about is the containers. Containers, in general, serve a very simple purpose – to store and protect items inside. However, you have variations in containers like plastic, cardboard, isolated foam, crates, etc. All of these containers are good for specific items. More importantly, each of them comes in various shapes and sizes to help the person moving have an easier time packing items inside it. So, for instance, you can use crates to store artwork, sculptures, or valued items in general. That way, when movers Gaithersburg MD, arrive, they will safely handle these items into the moving truck. Containers can make or break your items. Therefore, knowing which type of container to choose when moving certain items is crucial.
Protective materials
Now, protective materials play the biggest role in packing your items. They are, as the name suggests, providing adequate protection to the items inside the container. Some of the most common protective materials are bubble wrap, packing paper, plastic wrap, cushioning materials, plastic bags, etc. By properly using your protective materials you will make movers' Arlington VA job much easier.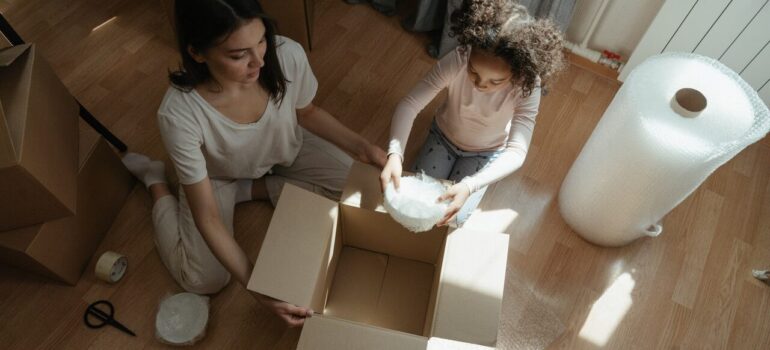 More importantly, if you provide adequate protection to the items inside the containers you will not have to worry so much about their safety. Especially if you decide to pay good attention to protecting your items. Protective materials are a must when it comes to packing supplies to obtain before moving from MD to VA.
Packing supplies to get before moving from MD to VA: Reinforcing materials
Sometimes you want to go the extra mile. This means that you want to ensure that the items you pack and protect remain that way. As we cherish the overall longevity of each item we pack and move, reinforcing materials help us ensure it. Namely, these materials are actually quite simple ones and you can find them almost everywhere. In most cases, when referring to reinforcing materials we are thinking of packing tape and/or ropes or straps. As the name suggests, these supplies have the purpose of reassuring the overall safety of the items inside the containers, as well as the containers themselves. Moreover, as interstate movers VA carry the containers, these reinforcing materials will provide them with additional support in handling the boxes.
Labeling supplies
Now, labeling supplies are certainly not a must-have when moving. However, they are very useful in their own field. Primarily, these items allow us to let the person handling the containers know what is inside and how to approach it. More importantly, they also help us keep track of the items inside containers.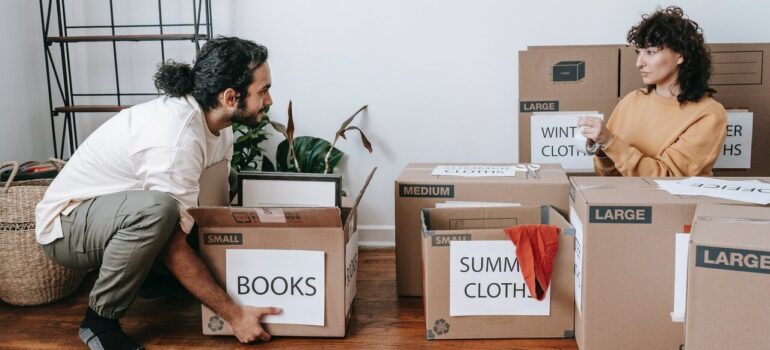 The items that would fall under this category are markers, label stickers, regular sticky notes, pens, scissors, etc. Basically, anything that we can use to write down or note someone about a specific item inside the box or crate. Furthermore, labels are a great way of letting a person know if you have fragile items inside the container. This will make the person handling the container more cautious and reduce the chances of damage.
Tools
Now, tools are a pretty wide term to use. However, there is no better one. The main reason why tools are one of the packing supplies to get before moving from MD to VA is that you will surely be needing some. When talking about tools that you must have when moving we mean screwdrivers, pliers, a wrench, etc. You will mostly want these tools in case you need to disassemble some furniture or appliance in order to properly pack them inside the container. This can also go as far as having equipment that can help you move items around like dollies, ramps, moving pads, etc. Relocation is an overwhelming task and you never know when you are going to need something.