Every household contains many difficult-to-move items. Breakables and fine art demand careful packing and preparation. Furniture and appliances take a lot of muscle and a team just to get them onto the moving truck. However, none of these comes even close to the piano. This divine instrument is notorious for the amount of effort it takes to relocate. So much so, in fact, that there is a whole branch of the moving industry dedicated only to piano moving, and nothing else. And when moving specialists with years of experience need even more training, just to move a single item, you know what's up. So, if you're not determined to hire moving companies DC area, be sure to study the whole process in-depth.
An able-bodied team is an absolute must
Now, we aren't saying that moving a piano is impossible without training. It's not. But it's absolutely impossible to do it on your own. And, if you try it, it will end up a disaster. No doubt about it. Therefore, if you're dead set on the DIY approach, be sure to have ample help.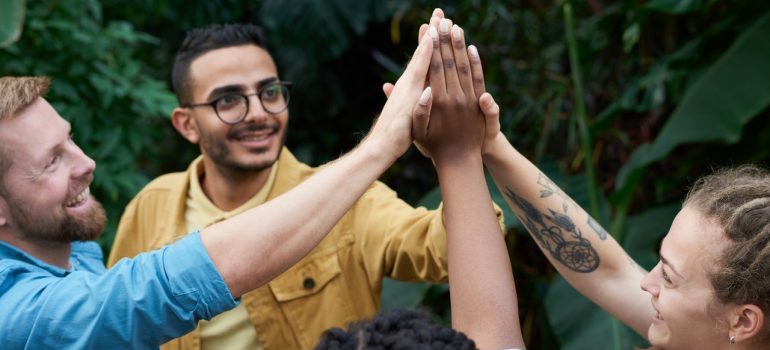 At a minimum, you'll need two more able-bodied people to assist you. Four would be optimal, for smaller pianos, such as upright or even baby grand. But, for grand pianos, you'll need at least six people, with specialized equipment to safely move it. They can weigh up to 1,200 pounds, and relocating them is quite a challenge. So, order a bunch of pizzas, cool those sodas, and invite friends over for an (ahem…) party.
Most important things to note when moving a piano
Piano moving is nothing to trifle with. It's a grand undertaking that can result in severe injuries. Furthermore, you can damage your precious instrument or property. So, regardless of the approach you choose, safety must be your primary concern. The priorities are, in order:
Yours and your friend's safety;
Avoiding damage to your property (old and new);
Piano's safety.
Why this order?
Well, first off, you can always buy a new piano. You can't buy new bones. Granted, this does sound a bit morbid. Nevertheless, it's a fact. Health is the greatest treasure and one you should never gamble with. So, if you feel overwhelmed at any point, it is better to find experienced Washington DC movers and let them help you.
Secondly, improper handling of heavy objects during household relocations can cause serious damage to floors and walls. These can cost a lot to repair. And, if you're selling the house, every bit of damage will lower its market value.
With that said, the best way to avoid damage to both health and property is:
Preparing properly;
Using adequate tools and equipment;
Using proper lifting methods.
A combination of these will minimize the possibility of anything going awry. So, devise a good strategy and a detailed plan, and you will avoid problems.
Equipment you'll need to safely move your piano
Although you can "muscle" a piano out of your home, it's never recommended. And, why should you, when you have so many options available? To make your life infinitely easier, you'll need the following equipment:
Wrapping blankets – you will need a lot of these, depending on the size of the piano;
Packing tape – again, you want enough to firmly secure the blankets, so they cannot move;
Moving straps – four will suffice, but it never hurts to have a few more;
Dolly – fit for the entire length of the piano;
Ramp – overcoming the stairs with piano in hands is quite the challenge;
Piano board – for grand pianos, but an excellent choice for smaller ones, too;
Caster cups – are always a good choice, but especially if you have those beautiful and expensive hardwood floors.
Bear in mind that you don't have to buy all this equipment. Many hardware stores and moving companies rent it for a small fee. So, shop around a little and you'll save quite a bit of cash.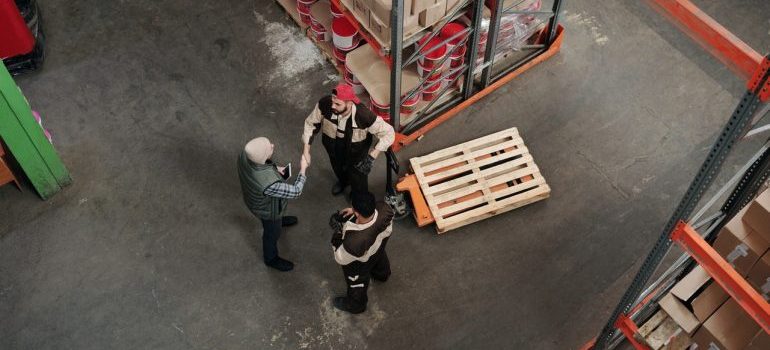 Step by step piano moving
The date is set. You got the equipment and made a foolproof plan. The "bribe" went through, and your friends are there to help. Excellent! Now it's time for some hard work.
#1 Secure the keyboard
A keyboard is quite fragile and easy to damage during transport. Therefore, the first order of business is to secure it.
If possible, close and lock the keyboard lid. If the lid doesn't have the lock, you'll need to secure it in place with blankets and packing tape.
Important note: DO NOT let the tape touch any part of the piano. It can leave marks that are a pain to remove, at best. The worst-case – tape will damage the finish of your precious instrument.
#2 Carefully remove the lid
Use the screwdriver to carefully remove the lid.
Wrap it in blankets and secure them in place with packing tape. Use professional's packing tips for the best results.
Move the lid to a safe place, and out of the way.
Important note: Make sure nothing remains inside the piano. Inspect it thoroughly for renegade screws or tools. These can severely damage your piano during transport.
#3 Remove foot pedals
Without flipping the piano, use the screwdriver to remove the foot pedals.
Wrap, secure, and pack them separately.
Move packed pedals out of the way.
#4 Wrap the piano
Use blankets and packing tape to wrap every inch of the piano.
Again, make sure the packing tape doesn't touch its surface. Pay special attention to padding the corners, as they are the most vulnerable.
#5 Removing piano legs
When your piano is wrapped, it's time to prepare it for lifting. To make it easier, you should remove the piano legs. This will make it easier to navigate tight hallways and, especially, staircases.
Instruct your friends to grab the piano at the front left corner;
Crawl under and remove the front left piano leg;
Position half the crew on the opposite side of the piano;
SLOWLY AND CAREFULLY lower the legless side, while lifting the other. At all times keep the weight off of the two remaining piano legs.
The legless side (the long one) goes on the piano board.
Once the piano rests on the piano board, remove the two remaining legs.
Secure the piano to the piano board with straps.
Tilt the piano, so you can fit a dolly underneath.
With these steps done, it's time for some real heavy lifting. Your piano is ready to move onto the moving truck.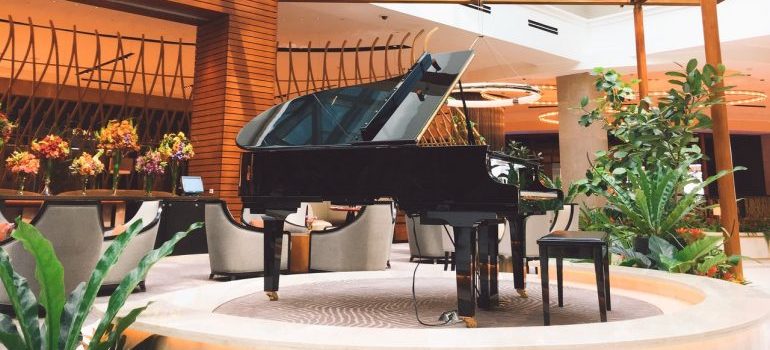 #6 Loading and securing the piano on the moving truck
It's best if the piano is the first one in, and the last one out of the moving truck. It's much easier to load and secure it if the truck is empty.
If needed, lay planks against the truck wall to ensure it's leveled.
Position the wrapped piano on the front wall of the moving truck.
Secure the piano in place using moving straps.
Double-check that the piano is safely in place. It must not be able to tip or roll.
Phew! That was quite the work! But, now, your piano is ready to travel to its new home.
Of course, once it arrives, you'll have to unload and assemble it. But, even that won't be the problem. Just follow the same steps in reverse, and you won't have trouble.
Be careful with lifting and piano moving!
There are a few things you could do to make a piano moving easier for you and your helpers. prepare yourself and dress for the task. Wear comfortable, non-slip shoes and clothing that allows you to move easily and doesn't restrict your range of motion. Next, before you begin lifting, make sure the path is clear of obstacles, and remove any items that might get in the way. After these, determine the weight and size of the piano before you attempt to lift it. Make sure you have enough people and equipment to handle the load.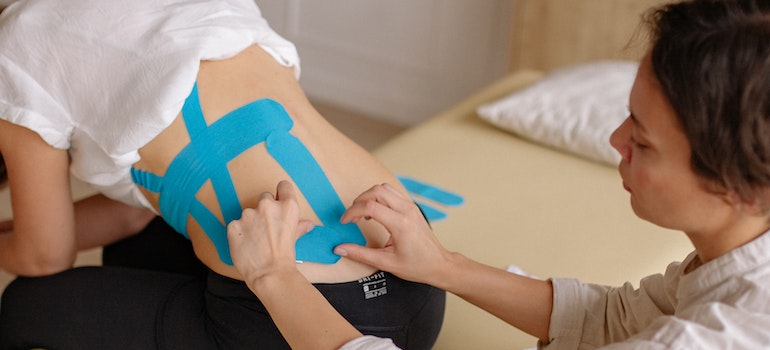 Position yourself correctly – stand facing the piano with your feet shoulder-width apart and your knees slightly bent.
Use proper lifting technique – place your hands on opposite sides of the piano, gripping the underside of the piano, not the legs or pedals. Keep your back straight and lift with your legs, not your back. Lift in unison with your team.
Move the piano slowly and steadily – move the piano carefully and slowly, keeping it level and steady. Avoid jerky movements or sudden stops.
Lower the piano carefully – when you reach the destination, carefully lower the piano back onto the ground using the same lifting technique.
Consider the type of truck you need to rent
In case you want a complete DIY move, you should decide on the type of truck. You can surely find Washington DC hourly movers and ask for advice or a free quote if you are doubting your possibilities.
When renting a truck to move a piano, there are several factors to consider, including the size and weight of the piano, the distance you need to transport it, and the terrain of the route you will take. Make sure to choose the appropriate size and type of truck that can accommodate the piano's weight and size. Also, ensure that the truck has proper tie-downs and straps to secure the piano during transport to avoid any damage. Here are some truck rental options to consider:
Cargo van: If you have a smaller piano, such as a spinet or console piano, a cargo van may be suitable. Cargo vans are smaller than moving trucks, which makes them easier to maneuver in tight spaces.
Box truck: A box truck, also known as a cube truck or moving truck, is a good option for moving larger upright or grand pianos. Box trucks typically come in different sizes and can accommodate various piano sizes.
Flatbed truck: A flatbed truck may be a good option if you need to move a piano across rough or uneven terrain. Flatbed trucks are also useful for loading and unloading a piano using a forklift.
Specialized piano moving truck: Some truck rental companies offer specialized piano moving trucks designed specifically for transporting pianos. These trucks have hydraulic lifts and other features to make moving a piano safer and easier.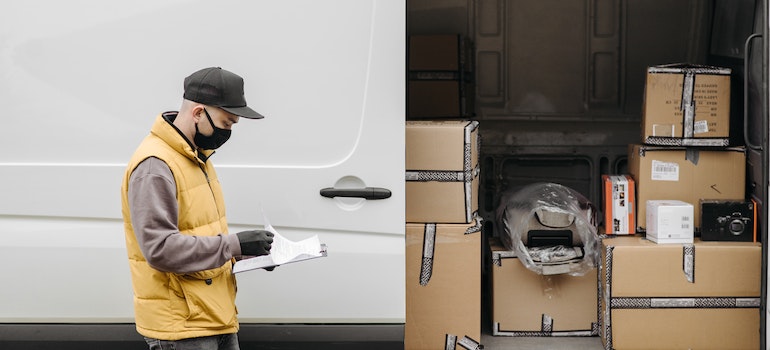 When in doubt about how to approach piano moving, go with the professionals
Piano moving does sound easy on paper. Still, the real deal is quite difficult to pull off. Therefore, if you're not absolutely, 100% certain that you can do it, it's better not to risk it. Instead, let professional piano movers handle it. That way, you can rest easy, knowing that your precious instrument is in safe hands.