The moving process can be complicated when you don't know where to start planing. That is why people should move with the assistance that can give the professionals. On top of all the moving, relocating your belongings and everything that goes with it, if you have pets – that is one more worry in your mind. Relocating with pets to Ashburn can go without any stress and problems if you prepare everything on time. A2B Moving and Storage can assist you in all of the preparation and planning. You have to think about packing and arranging all the relocation process, at least you can find someone to help you in the meantime. No one should move by himself. Family, friends, moving companies can help with packing, looking after your pets while you plan the move.
Organizing everything with people you trust
If you find someone to assist you in every area in the moving process – that is a great choice to choose in that situation. Moving companies Ashburn VA can be there for all the relocating parts. They can help it with organizing the storage if it is needed, etc. Friends and family can be there for packing and thinking the best way for it. They can look after the pets while you are packing. Someone from the family can take a dog for a walk or calming down the cat while the rest of the people pack all the belongings.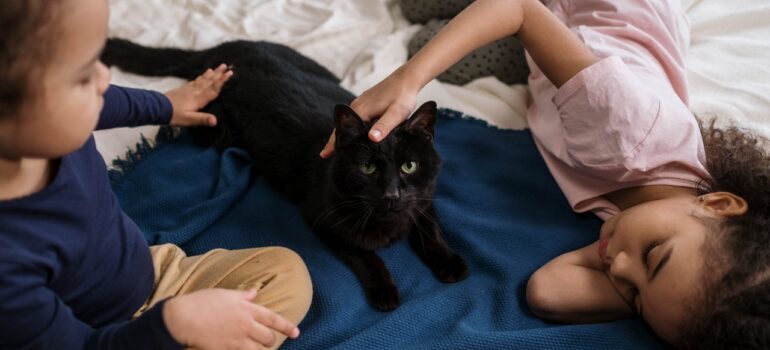 The key for great organizations is:
starting to plan everything on time
making the list of everything you need for the moving
deciding on chores around moving – dividing tasks between you and people that are helping you
always being ready to explain what do you need and what do you want around the moving process – telling the moving company your wishes and trying to agree what is the best options for you with the moving company you hired
preparing your pets on time for the move – see what you have to do and get for the relocation
Relocating with pets to Ashburn – the ultimate guide
There is a lot of examples that one person could have for a pet. Fish, guinea pigs, birds, dogs, cats, etc. Every animal on this planet can sense a change. A lot like people, they can feel different energies and smells. Different smells could be unsuiting in most cases. Making a new house into a home means that we do everything to feel comfortable in it. From cleaning house with products that we like – to arranging our furniture in a similar pattern like we are maybe used to. When your house feels like home to you, it will feel like home to your pet also. Even if your house is nothing similar to the old one, when you are happy and calm, that energy and feeling transfer to your pets.
Besides that, there are always tips to make your trip easy – that can help you with relocating with pets.
Tricks you can use when relocating your pets
These are some of the things you can use, make sure that you have everything you usually use for your pets near you. Contact your vet, talk with him or her about moving. Think ahead, the more you can prepare the new home for your pet the better. Don't forget what you can do before moving also.
Prepare SOS kit
Prepare an easily accessible kit that has dog/cat/bird food, kitty litter, toys, and grooming tools, etc. that you can use to keep your pets comfortable during the first few days of unpacking. When you move into the home in the first days could be a mess all around you, having an SOS kit that you always know where it is, could be helpful.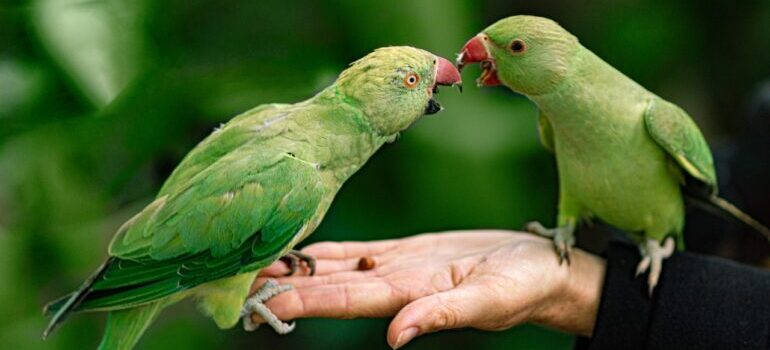 Talk to your pet's vet
It is the best thing to talk with professionals. The same way you want to work and make plans with the best movers Alexandria VA about your moving is what you want for everything in your life. And we all know that people treat their pets like family. So, if you are moving out of the area, inform your vet so you can take records and any prescription medications with you. See if they can recommend another vet in your new neighborhood. Take vet's suggestions on how is the best way to move with pets. See how you can make your pet feels comfortable the best it can while you are in the moving process. 
If they have a microchip, make sure you update their tags or information to the new address and phone number.
Avoid putting your pet in the middle of the chaos
You are packing and doing similar things that you are doing on a moving day. During the move itself, it is recommended that your pet is not in the house. If you cant take them out of the house on a moving day, at least you can:
Ask your friend to help you – If you have a dog, maybe a friend can be with it for a day, taking it for a walk or being in a quieter room with it. The same is with cats and birds. If someone can be around them to calm the situation if needed, it is better.
Make a plan with someone from your family – You can take care of your pet alternately. When one person is tired from packing – that person can be with your pet if necessary.

Let someone help you on a moving day and while packing by staying close by your pet!
Use your own vehicle for relocation if you can
Pets love familiar places if they must go into the new house, and if they feel all the stress around moving, at least your car will be something normal, that has your smell and theirs (if they use it regularly – if not – use something that has their smell on it, like toy or blanket). Interstate movers VA can assist in relocating all of the belongings, so you can take a relaxed road trip with your car if it is possible. The moving company will do the necessary. So, you can be around your family and pets while you are going to your new home.
Make your house a home (before your pets get in)
If you can, arrange to unpack most of the things that you relocated. That way your pets will not be under stress while you are running around and skipping boxes. If you cannot do it like that – unpack room by room, in that case, your pet can be in the room where you don't make a mess while unpacking. Relocating with pets to Ashburn will be finished in no time, even if that doesn't feel like that at the moment. After all, the place where you are living is the place where your pets will feel at home. If you and your family are there, they will adjust quickly!