Washington DC is known for its rich history and political significance. It also boasts a thriving foodie scene! From Michelin-starred restaurants to street food vendors, the DC area offers a diverse array of dining options that reflect the city's multicultural roots. In this article, we will explore the DC foodie scene and its importance. As one of the most reliable moving companies in DC area, we'll also provide recommendations for the best places to eat and drink. We are sure you will enjoy them all!
An overview of the DC foodie scene
Food and culture are intertwined in DC, with many local restaurants serving dishes that reflect the city's diverse population. From Ethiopian injera bread to Vietnamese pho, DC's food scene offers a glimpse into the cultural heritage of its residents. Local festivals and events celebrate the city's multiculturalism through food, music, and art. But apart from that, we can't talk about the DC foodie scene without mentioning Washington's signature dish – the half-smoke. All DC apartment movers you'd ask would tell you to first go out and grab a half-smoke once you unpack.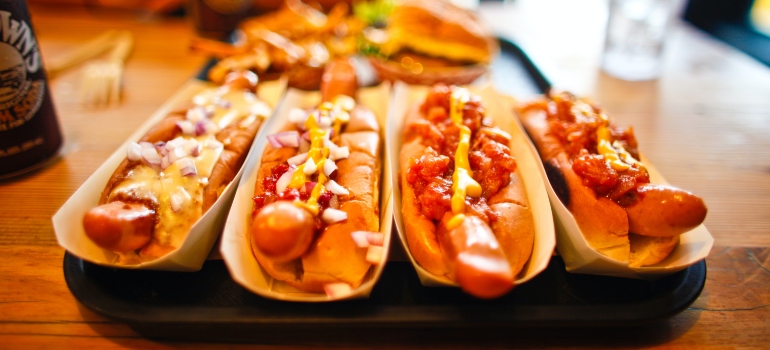 Best local restaurants
Since half-smoke is the staple of the DC foodie scene, the first place you should visit is Ben's Chili Bowl. It's a family-owned restaurant in the U Street neighborhood. It has been serving half-smokes since 1958! When our DC piano movers are done with their work, they frequently go there to eat and enjoy their time. Another must-try restaurant is Rose's Luxury, which offers a creative and ever-changing menu of American and international cuisine.
Best local festivals
Washington DC hosts several festivals that are perfect for foodies. Here are some of the best.
Smithsonian Folklife Festival – This annual festival showcases the cultural heritage of different countries and regions. Visitors can sample traditional foods from around the world while enjoying live music and dance performances.
Capital Food Fight – This culinary competition features top chefs from the DC area and beyond, who compete to create the best dishes. Proceeds from the event go towards ending hunger in the DC area.
Taste of DC – This food festival features more than 60 of the city's best restaurants, food trucks, and beverage purveyors. Attendees can sample a wide range of dishes and drinks with live music and entertainment.

You will find plenty of places to enjoy as a foodie in DC, in almost every corner of the city!
We hope you'll love the DC foodie scene just as much as us!
These were just some examples of how rich and amazing the DC foodie scene really is. As one of the busiest furniture movers Washington DC has at its disposal, we know our way around town. That includes all the popular spots in the area where you can enjoy amazing food and relax with your friends and family. So while we are helping you move and settle in, we'll give you recommendations for places to eat based on your preferences and food choices.