Moving is not the easiest thing in the world. This is especially true when it involves relocating bulky items that demand extra care and attention. The challenge isn't just about the weight or size. You'll also want to ensure the safety of your prized possessions and avoid potential damages. While many consider taking on this task themselves, the advantages of entrusting this job to a reputable company such as A2B Moving and Storage cannot be emphasized enough. These professionals have both the expertise and equipment to ensure a smooth transition. Once you read about the tips for packing and moving bulky items, you'll have the knowledge to make your move more efficient. Then you can decide whether you'll take the DIY route or seek professional assistance.
Identify all that is bulky among your belongings
When embarking on a move, one of the first steps is to identify the bulky items. Such items are typically defined as those that are large, heavy, or cumbersome to transport. Identifying these items early in the planning process will help you create a more streamlined moving strategy.
Bulky items can encompass a wide range of possessions, including but not limited to:
Furniture: Sofas, beds, dressers, dining tables, and wardrobes are common examples.
Appliances: Refrigerators, washing machines, dryers, and stoves can be quite hefty.
Specialty items: This category includes pianos, pool tables, safes, and any other unique or oversized possessions.
Figuring out which items fall into the "bulky" category will help you with your planning because they often require more time and effort to pack and move safely. Once you've identified these items, you can start planning how to handle each one effectively.
Taking measurements before initiating the move prevents a lot of issues
One of the tips for packing and moving bulky items is to take precise measurements before you start doing anything. This step is often overlooked but can save you from major headaches on the moving day. Here's how to go about it:
Measure the bulky items:
Measure doorways and passages
Plan the best path.
Taking accurate measurements might seem like a small detail. However, it can make a significant difference in preventing unnecessary delays and ensuring that your bulky items arrive at their destination safely.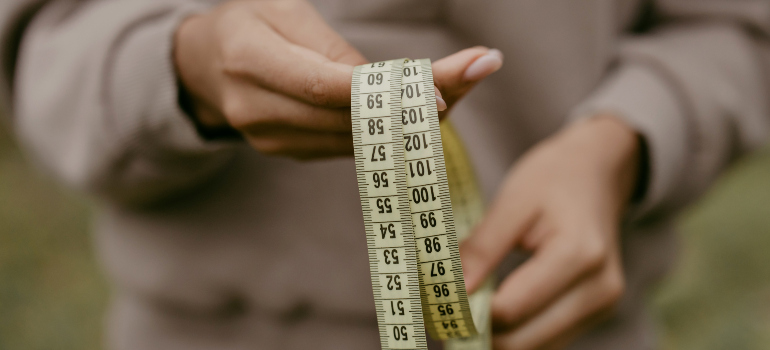 The right tools and supplies are a game-changer
To pack and move bulky items efficiently, gather the necessary tools and supplies. Consider investing in a furniture dolly, which eases the transport of heavy pieces. Furniture sliders can also be invaluable, allowing you to glide items across floors. Additionally, moving blankets, bubble packs, and stretch wraps are essential for protecting your belongings during transit. Having the right tools on hand speeds things up and minimizes the risk of damage.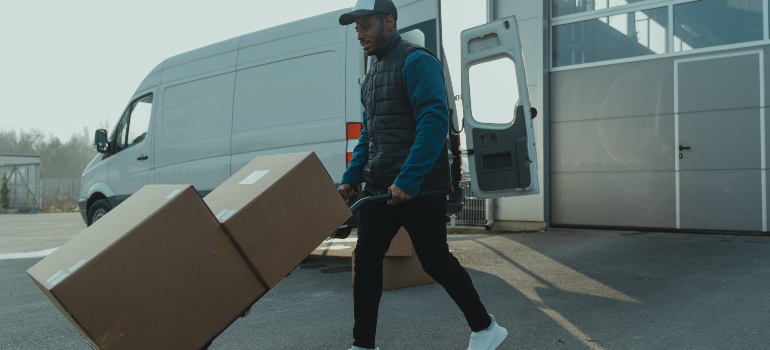 One of the tips for packing and moving bulky items is to create an inventory
Before initiating the packing process, you should create a comprehensive inventory of all the items you plan to move. This step will both give you a clearer idea of what you're dealing with and also help you decide what items you may need to store temporarily. For instance, if certain bulky items won't fit in your new location or if you're transitioning between places, considering a secure storage solution becomes paramount. Facilities such as those handling storage Alexandria VA can provide, offer safe and accessible options for your belongings until you're ready to retrieve them. As you create your inventory list, note down items that might require such storage solutions, ensuring you're well-prepared for move day.
Delicate items that damage easily without expert handling
Every bulky item has its unique set of packing needs. While some items may simply require protective wrapping, others, such as delicate musical instruments, need more specialized care. For instance, a piano isn't just heavy. it's a finely tuned instrument with internal components that can be easily damaged if not moved correctly. If you possess such specialized items, it might be wise to hire experts in that niche. For instance, when moving a grand piano, seeking out piano movers Northern Virginia instrument owners trust can make a world of difference. These professionals know the intricacies of handling such precious cargo. They are sure to transport it to any destination unscathed. Therefore, as you categorize your bulky items, always consider the specific care and expertise required. Also, don't hesitate to call in specialists when necessary.
Not all moving services are made equal so choose wisely
Selecting the ideal moving service can be the difference between a stressful move and a smooth one. While there's no shortage of options, it's really important to pick a service that understands the intricacies of handling bulky items. Research and referrals are essential. Start by asking friends and family or reading online reviews. Also, local search queries, such as the best movers Alexandria VA offers can provide a list of top-rated movers in specific regions. Once you have a few options, inquire about their experience with bulky items. Do they have specialty equipment? What's their insurance policy for damages? Taking the time to choose wisely will guarantee that your bulky items are in expert hands.
Load your bulky items properly and you'll be able to transport more of them in one go
Efficient loading can significantly maximize space and ensure the safety of your items during their transport. Begin by placing the heaviest bulky items at the bottom of the moving truck or van. Distribute weight evenly to maintain balance. Use padding or moving blankets to create protective layers between items and secure them in place with straps. Fragile items should be carefully placed on top and secured to prevent shifting while they travel.
Ensuring safety is a must
Safety should be a non-negotiable throughout this entire move. Whoever is helping you with the heavy lifting should always find ways to reduce the risk of injury. Always lift with your legs and not your back to prevent strains and sprains. Also, wear appropriate protective gear, including gloves and closed-toe shoes. Make sure you clear pathways of any potential tripping hazards, such as loose rugs or cords. By taking these safety measures, you can ensure a safer and more efficient move.
With a bit of smart planning and applying these tips, you'll be moving your bulky items between homes with ease
Moving bulky items doesn't need to be overwhelming. With these tips for packing and moving bulky items on your mind, you can make it a very successful process. These steps will lead to a stress-free move of all your larger belongings, whether it's a local or long-distance relocation. With the right approach and attention to detail, your cherished possessions will reach their new destination without giving you a headache or producing extra costs. Neat, don't you think?