Moving the entire contents of your home to a different location certainly isn't easy. However, there is a thing that can make all of that hard work a bit easier. Or rather, a few things. If you have the right set of tools when moving, you can make your interstate relocation a breeze. With them, all your heavy, fragile, and priceless items will make it to the new home in perfect condition. This means that your experience with A2B Moving and Storage will be all the more simpler and enjoyable. In addition, proper tools can also help you stay safe and avoid injuries during moving day. Better yet, aside from protecting you, they will also keep your floors and walls safe from unwanted dings and scratches. There are plenty of tools that can make your interstate relocation a breeze, and we'll be introducing you to a few of them here.
You can make your interstate relocation a breeze with hand trucks and dollies
If you have to move heavy and bulky furniture, nothing gets the job done like a dolly cart. This is a flat platform on four wheels, which can easily transport up to a thousand pounds. One of the most important things to remember is to safely attach your items to the cart with straps before moving them. With it, hauling that giant couch to interstate movers VA vehicle will be quick and simple. You can also use the furniture dolly to move items vertically because the wheels can displace the weight so well. But probably the best benefit of them all is the fact that you won't have to use your body to do the heavy lifting. The most common cause of back and neck injuries on the moving day stems from lifting heavy items. You can either purchase this cart yourself or rent it from your chosen movers.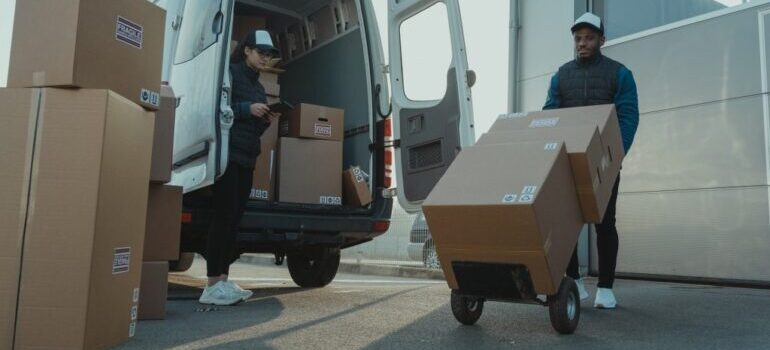 For moving bulky, vertical items such as refrigerators or stacked boxes, you can benefit greatly from having a hand truck. Similar to a dolly cart in purpose, it has two wheels and long handles, making it perfect for tall and heavy items. If you want to make your interstate relocation a breeze, this cart is basically an essential item. Best movers Alexandria VA recommends having it especially if you're undergoing a DIY relocation. All you have to do is slide the bottom platform of the truck under your item. Then, slowly tip the item towards you to lift it off the ground and carefully wheel it to the moving vehicle. Given that the items you're moving may be large and thus obstruct your eyesight, it is advised to have a friend help you with navigation.
Moving blankets and pads ensure safety for your home and items alike
Carrying cumbersome items through the home means navigating them through your hallways and doorways. This means that you have to be very careful because your home can be very vulnerable to scuffs and marks in these times. Imagine carrying a table through the hallway. One wrong step and the table's corner leaves a nasty gash in the drywall. At this point, you're looking at stress, a damaged wall, a damaged table, and even more repair expenses. This can easily be avoided by using furniture blankets. Before looking for moving companies Maryland, make sure you stock up on these protective pads. When the big day arrives, simply wrap your large couch in one of these blankets, and carry it to the vehicle without the worry of damaging your household. Moving blankets ensure that your items won't damage your home and that they will remain safe for the duration of the move.
Ropes and straps help you have a tight grip on your relocation
As we've previously mentioned, most of the moving day-related injuries stem from trying to lift heavy items. Without proper lifting techniques, you can find yourself with a sprained back very easily. If you don't have access to a moving cart or furniture dolly, lifting straps can be quite handing for safe and easy lifting. Movers Arlington VA recommends using them for every relocation, as they lower your item's center of gravity, making it easier to lift. To ensure maximum safety, these items should always be used with a partner. You simply place the straps under the item, and over your shoulders. This approach causes less stress on your body since you don't have to bend over to do the heavy lifting.  Once you move your item to the truck, you can use these same straps to secure items to the vehicle, so they remain in place during transport.
A few other handy tools and materials to help make your interstate relocation a breeze
Even though all these tools help transport your items with ease, you shouldn't forget about the other supplies which can turn your relocation into an amazing experience. To truly perfect your craft and make sure your move goes smoothly, arm yourself with the following items:
Bubble wrap is perfect for protecting fragile items, such as mirrors or collectible items. It is great at absorbing vibrations and preventing cracks in your items while they're on the way to your new home.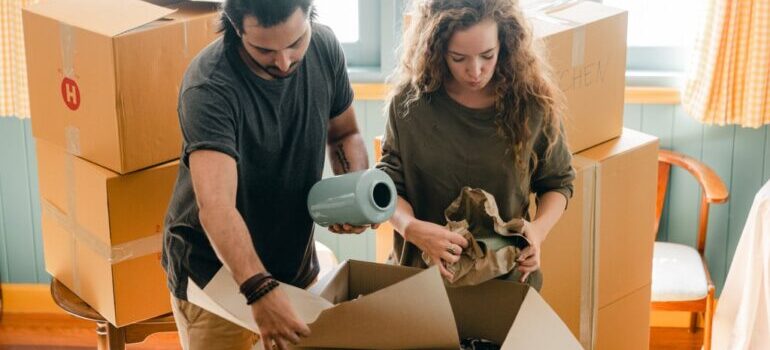 Moving boxes are a core component of every relocation. Because of this, you need to make sure that they are brand new and in good condition. With quality moving boxes, you will contain all of your household items in small, easy-to-carry containers.
If a piece of furniture is either too large or oddly shaped to leave the house in a conventional way, you will have to disassemble it. For this occasion, you will need a basic set of household tools, such as wrenches, screwdrivers, and a hand drill. Every household should have these items for day-to-day maintenance and not just for the moving day.
If you want to make unpacking after the move a breeze, consider adding labels to your boxes. With them, you'll know the contents of each box, adding a bit of organization to the endless pile of boxes.
Of course, there are countless more specialized tools and supplies made for very specific items and situations. However, here we listed all of the items which are a must-have if you want to make your interstate relocation a breeze. With them, the move will be fast, enjoyable, and nobody will rise getting injured.