Sometimes, as our family grows, or opportunities arise, a need to relocate arises. It's very important to find a place that your entire family will grow to love. Finding a home for your family in Washington is not too difficult. However, sometimes just the thought of moving your entire life to another location can seem daunting. This is why there are companies like A2B Moving and Storage to take care of everything concerning the moving of your property.
There are two basic categories moving can be split into:
Local moving
Long-distance moving
Moving your home to Washington
There are many reasons why a family may opt to change their place of residence. Sometimes, this requires the services of long-distance movers. Perhaps you've been offered a better job or just want a complete change of scenery. Some people move for better education opportunities for their children.
Another popular reason for long-distance moving is joining the military. If you or your loved one are enrolled in the armed forces, this could require setting up in an entirely different state. This is why you can also get special services, such as those of military movers. Whatever the reason, you've got professional help on your side to make the process seamless.
Moving your home around Washington
Moving around Washington doesn't need to be a chore either. When it comes to packing and loading, get all the assistance you need with dedicated moving helpers in Washington DC. Once you've found your desired home, simply phone your movers and let them take care of the rest.
There are specially trained and equipped residential movers in Washington DC. These are experts in the field of moving individuals and families to their new places of residence. Moving your home with their aid should feel like a cruise.
This also includes handling bulky furniture that would be difficult to load. There is always a chance of damaging your property or injuring yourself when hauling something heavy. Your movers have a team of well-equipped furniture movers in Washington DC for these tasks specifically.
Finding the perfect home for your family
Before getting into apartment hunting, consider the needs of each family member. Some family members may be more concerned with location, some with the attractiveness of the property. Often, we need to balance the two. With over 20,000 apartments currently available in Washington DC, the choices are many and diverse. Whether you're out for a luxury penthouse or a humble nest, Washington offers endless variety.
Washington is a place rich with history and teeming with activity for people of all ages. Around every corner, there is something to do or see. However, traffic in Washington can be hectic. Make sure your neighborhood has everything you require to avoid long drives. It's a good idea to make sure you've got green areas around your home if you won't have access to a backyard or a lawn.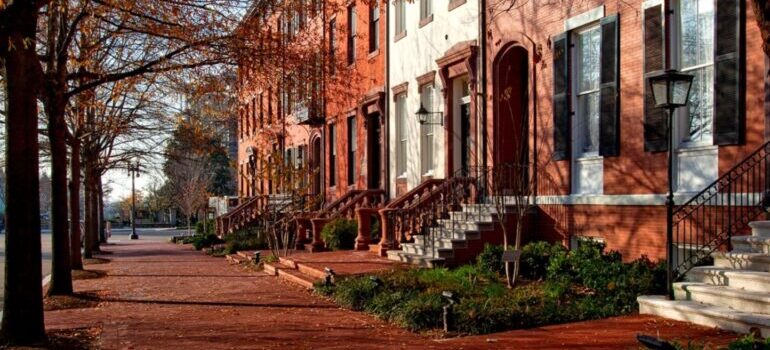 Settling with your family in your Washington home
Now that you know how to get there and where to search for offers, finding a home for your family in Washington should be simple. With the help of this short guide, you'll be enjoying the sights and exploring Washington DC in no time. Good luck!