Organizing a business relocation is never an easy task. Even if you live in DC and just want to move your business to Gaithersburg, which is less than a forty-minute ride, you still need to undergo serious preparation. One of the first steps is to decide whether you want a DIY move, or you want to hire a reliable moving company, such as A2B Moving and Storage, to help you with this daunting task. Our advice would always be the latter. Moving your business requires a lot of logistics and perfect organization, and very often it is not easy to achieve if you are not a professional mover yourself. However, we will present to you the ultimate guide on how to conduct a business relocation from DC to Gaithersburg this winter. With our advice and the right moving company, you will enjoy your business relocation.
Moving your company from DC to Gaithersburg – Why is it a good idea?
Even though DC and Gaithersburg MD are only 20 miles away, there are many differences when it comes to the way of living, but also to the way of doing business in this area. Movers Maryland residents put their trust in usually have their arms full because the number of people who want to live in this more quiet place has been increasing rapidly. Gaithersburg is a perfect place for those who prefer to live at a slower pace. Still, it also means you are never far from all the business DC boasts with. Moving into one of the Gaithersburg houses will also put you near various historic and cultural sites. Gaithersburg is a popular choice for D.C. employees raising a family because of its great schools and reduced crime rates.
All this means that if you conduct a business relocation from DC to Gaithersburg, you will gain a lot. Many people commute and work in Washington. This means that each new business that moves its business completely or expands in Gaithersburg is very welcome. Depending on the area of your expertise, that is, on the nature of your business company, maybe your firm is exactly what the residents have been waiting for. You have probably thought well about your move and researched the business market in Gaithersburg. However, before you hire office movers DC to conduct a business relocation from DC to Gaithersburg, we will remind you of the current state when comes to the job market in both DC and Gaithersburg MD.
The job market in DC
As you already know, since you have a business there, DC is one of the best places for people who are looking for a way to start their careers. It is especially the case with recent graduates who have many internship opportunities in the DC area. As long as they have a good score in college, they also have a way to find a job. Also, the average salary per year in DC is $77,525, which compared to the living costs is enough for an average family to live there.
However, it still depends on your area of expertise, because not all jobs are equally popular in DC. As a matter of fact, 39 % of the residents are employed in Legal occupations, while 30 % of people work in Arts, Media, Design, Sports, and Entertainment. So, if your field of business is not in one of these areas, it may be difficult for your business to be at the top. That may be one of the reasons for you to reach out to one of the moving companies Washington DC has to offer and relocate your business to Gaithersburg.
How is the job market in Gaithersburg different from the job market in DC?
When it comes to the job market in Gaithersburg, the difference in average salary is not that different. Namely, it is $79,000 per year. In the second half of 2022, the average salary increased by 1.5%. However, what is different when compared to the job market in DC is the fact that different jobs are the most popular. So, as we have already mentioned, depending on the area of your expertise, relocating your business from DC to Gaithersburg can be the right thing for you.
The most popular jobs in Gaithersburg are:
Software Engineer,
Research Scientist,
and Research Associate in Biotechnology.
The unemployment rate in Gaithersburg is just a little bit higher than in the USA. Namely, this rate is 6.0% in the USA, while in Gaithersburg it is 6.1%. DC has the best results in this category, with an unemployment rate of 4.60%. However, the unemployment rate doesn't need to affect your area of business. Gaithersburg may be just what you have been looking for. Now that you have seen the differences in the job market in DC and Gaithersburg, it is time to find out how to organize a winter relocation, step by step.
What are the steps to undertake before you conduct a business relocation from DC to Gaithersburg?
One of the first and most important steps you need to take when it comes to any kind of moving is to make a plan. Planning is also required when you need to organize a commercial relocation from DC to Gaithersburg. Before you decide to call some of the best interstate movers DC has to offer, you need to do some research and make a plan accordingly. By reading this article, you already have some of the work done. You now know some basic facts about the business differences in DC in Gaithersburg MD.
However, apart from the usual preparations for the commercial moving, you will now have to take some extra measures, since your relocation takes place during the winter. Even though moving in winter has its advantages, organizing a move to Maryland at this time of the year can be tricky. But, you shouldn't be worried. With the right moving company and the pieces of advice, you will get from us, this relocation will be a pleasant experience. And, what else is important, it will be done quickly and efficiently.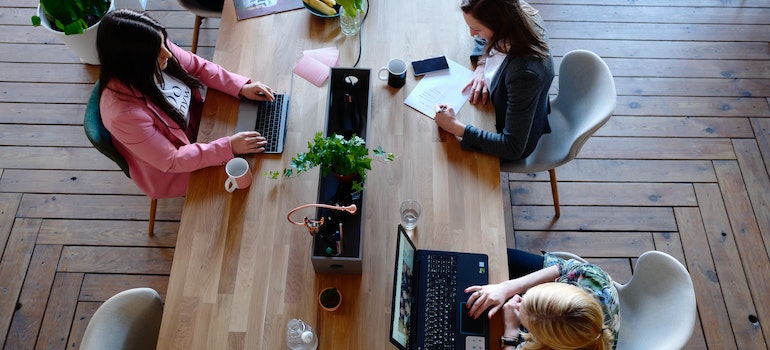 Have a serious conversation with your employees and prepare them for a business move from DC to Gaithersburg
One of the reasons why commercial moves are difficult is the fact that there are a lot of people involved. In one way or another, they are all somehow affected. It can be that they are staying without their job if it is not possible for them to relocate. If they do, you also need to give them enough time to adjust. It is important to have in mind that in most cases it doesn't mean only a commercial relocation. It is also a residential one for many of them. One thing you can do is make things easier on your employees by getting some of the combined moving services DC which are going to be a great help for you also. That way, you won't have to deal with at least some parts of the commercial relocation.
Before you start doing anything else, like hiring movers and setting the date, it is important to have a conversation with the people who work for you. It is equally important to talk to those who will continue working in your firm, but also with those who won't. Later on, when the matter is settled, you can give tasks to each of your employees packing-wise. Never forget that you are moving during the winter. It will require a little more organizational skills than usual.
Set a date that is convenient for each party involved
When you organize a relocation with so many people involved, it is important to prepare everything ahead and schedule the date in advance. However, what is the trickiest part about moving your business to Gaithersburg in winter is the fact that you can't know what the weather is going to be like, so you need to be prepared for possible delays.
In any case, you should contact a moving company on time and set a date with them. Of course, whether you choose movers from DC, or hire one of the most reliable moving companies Gaithersburg MD has to offer, they will do all they can that your relocation goes smoothly. Nevertheless, even though they are experienced and used to overcoming all the obstacles, bad weather is something they really can't influence. So, you have to be very careful when you want to conduct a business relocation from DC to Gaithersburg.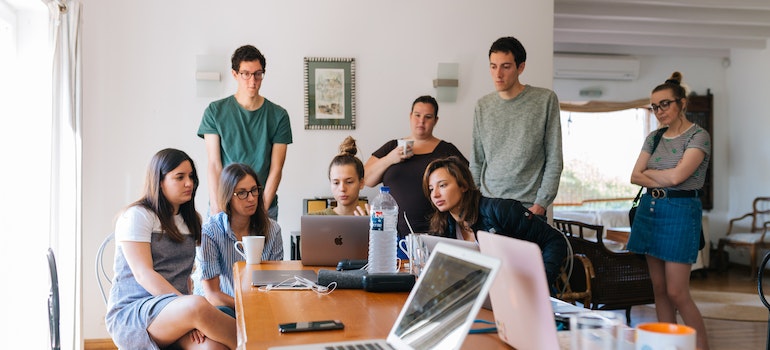 What to do in case of bad weather on your moving day?
Before you talk with your movers, check the weather forecast a few months in advance. No matter how well the forecast may look two-three months before your move, it may not stay that way. So, it is important to set up a few other possible options with your movers. Another important task concerning the weather and the date of your move is to prepare everything for the first set date. Clear your working and private schedules for a few days around your relocation. Also, make sure that all the people involved in the process do the same.
When you want to conduct a business relocation from DC to Gaithersburg in winter, you should know that it has certain advantages. For example, finding the proper movers will be much easier. Winter is not the moving season, especially not for commercial moves. That means you will be able to find more than enough moving companies to choose from. They'll also be more available and you'll be able to choose a date that is the most appropriate for you. For these reasons, your relocation will probably be more affordable.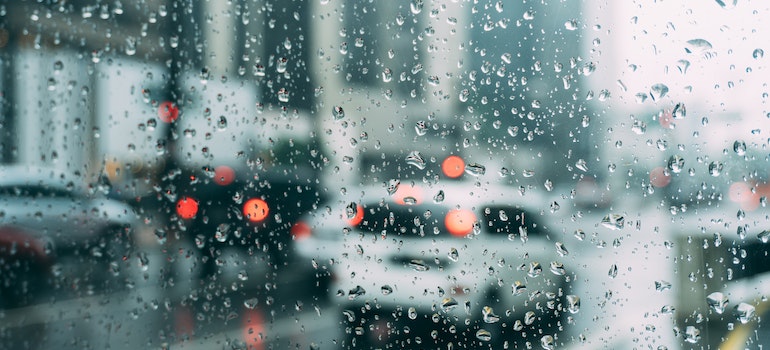 Disadvantages of conducting a business relocation from DC to Gaithersburg in winter
As we have already said, winter relocation is specific. You need to be on the lookout for the weather conditions. This is especially the case when you are about to organize a winter relocation to Maryland. In some parts of the USA winter can be a more pleasant time for a move than summer, for example. However, with the city of Gaithersburg, that is not the case.
The monthly snowfall in Gaithersburg varies significantly throughout the year. There is an average of 1 inch of snow for more than 3o days in a year. However, when compared to the fact that the snowy season lasts for almost four and a half months, from the middle of November, until the end of March, that number is not that high. February is the month with an average snowfall of 7.8 inches. You should definitely avoid this part of the year for your winter relocation.
Prepare your new premises in advance
Since you will have a lot of work on your moving day and since you will be ready for some possible delays, don't forget to prepare your new premises for the relocation. One of the most important things is to have electricity ready to be used and that the place is heated. Also, even though you can hire Washington DC hourly movers and they can do the majority of the work for you, they will also be a lot of details for your employees to do. Apart from making them feel comfortable, you should also have someone prepare at least snacks for you. Refreshments are also a must.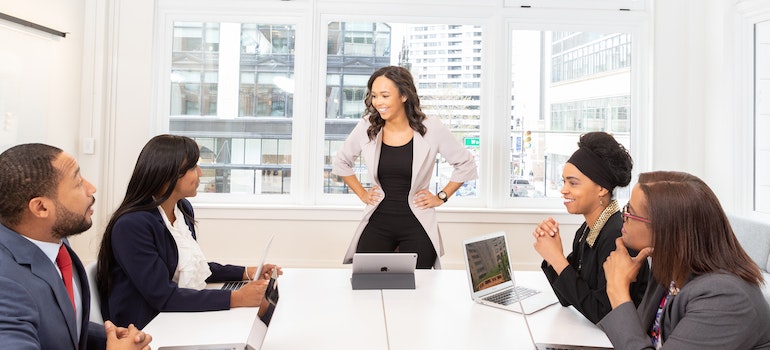 A business relocation in winter is possible with the right lead
You have seen what are some of the reasons to conduct a business relocation from DC to Gaithersburg. Also, you have seen the steps you should take to make that relocation work in winter. It does seem overwhelming, but with the careful planning and organizing, your working days in Maryland are about to start.