When dealing with the relocation of heavy and bulky furniture, it's all about planning and preparation. Even more so when it comes to moving in, and moving upstairs. If we include the piano in the whole story, it is clear that moving upstairs must be well organized. Only a serious approach will ensure the successful moving of the piano without damage and injury to the carriers. And that is exactly what our moving companies DC area offer, professionalism, and first-class execution. However, if you decide to do it by yourself, you must learn how to move the piano upstairs properly.
What do you need when moving the piano upstairs?
Considering that a grand piano can weigh up to 1200 pounds, it's clear you'll need muscle power, to begin with. Of course, a baby piano is only half the weight, but it still requires strength to move it. So if you don't want to hire movers DC, you better learn how to do it without damaging it and getting yourself hurt. For this purpose, you will need several tools and supplies, as well as an extra pair of hands. Additionally, there are some tricks that professional piano movers use, which might help and make it easier for you.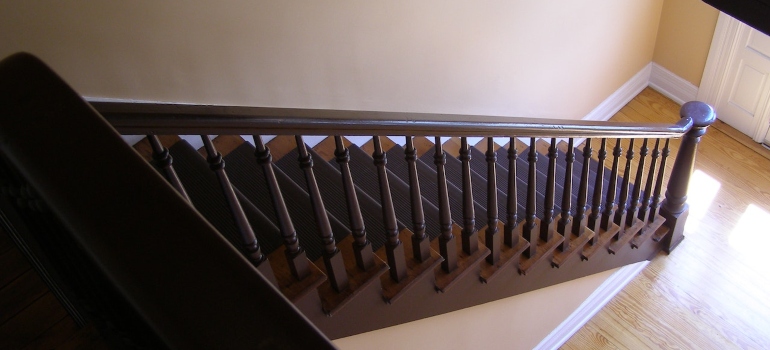 Packing might be a crucial part of moving a piano
Before you move your instrument, have in mind that piano repairs can cost between $500 and a few thousand. Therefore, make sure you wrap it properly and add some extra padding. And make sure to separate the parts like pedals and legs if possible before packing. Close the lid and cover the entire piano with moving blankets, then tape it to make sure it won't slip. You can also place a layer of padding under the lid, to protect the strings and interior in case of a drop. The next protective layer you need to cover the piano with is cardboard. Make sure the cardboard covers the entire piano and all critical protruding areas, and fix it also with tape. Another way to protect your piano is by ordering a custom-made wooden crate. Many DC piano movers can fulfill this request for their customers. 
Use professional piano moving gear 
Moving heavy items such as pianos requires certain equipment. Without it, it's hard to imagine moving the piano upstairs without ruining it and harming yourself. To safely move the piano upstairs you will need the following tools:
You'll need all kinds of moving straps, such as lifting and tie-down straps. You will use them to attach the piano to the cart and for pulling. Don't use just any rope or belts, only moving straps are strong enough. At the same time, they are soft enough not to damage the surface of the instrument.
A piano dolly notably eases the process of moving pianos upstairs and is a vital tool for the job. Lifters will lift the piano off the floor at the same time, while one crew member will push the dolly underneath. After that, it will be much easier to move the piano in the desired direction. Dollies can handle 800 – 900 pounds, so make sure your piano doesn't weigh more than that. If you own a heavier and more expensive copy, we advise you to consult moving experts. 
Plywood planks can come in handy for making ramps, that you will place on the stairs. There are many types of plywood, and they differ in the material from which they are made, in dimensions, and in durability. Choose one made of hardwood, birch, oak, or maple. Make sure to buy enough to cover the entire staircase. Therefore, carefully measure the staircase and corridors, to find out how much material you need.
You may also need heavy-duty gloves, with rubber thickening on the palms. Get some non-slip tape as well, and apply it to the plywood to prevent the cart from sliding. 
Find helpers who know how to move a piano upstairs
Getting proper help for this kind of work is not easy. Although your friends would certainly not refuse to help you, think carefully about whether they are the right people for this job. Helpers must be strong, with no recent knee, shoulder, or hip injuries, and with some prior knowledge of heavy lifting. At least four men are required, two or three people for lifting and one for navigation. Having a backup ready is not out of the question, so it might be better to gather a team of 5 people. In case you're having second thoughts or any doubts, feel free to consult our furniture movers Washington DC. Our skillful team is trained to handle heavy objects with ease and dexterity. We will move your piano efficiently at reasonable prices, regardless of the number of floors.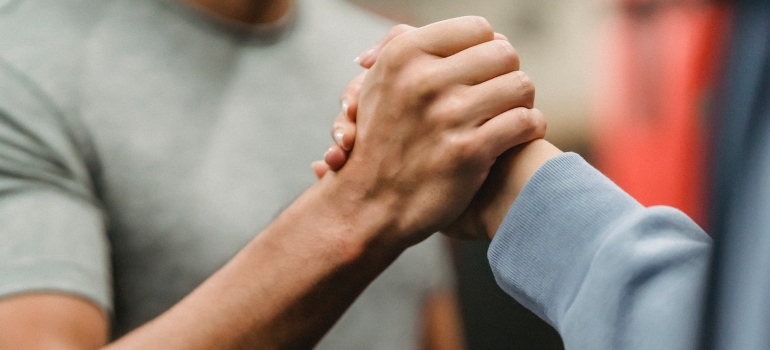 What else to pay attention to when moving the piano upstairs?
When you decide to move the piano, it's essential to determine the shortest and easiest route. Measure the height and width of the piano, corridors, and aisles, to make sure the piano can pass through. Things get complicated if there are turns in the corridors and stairs. You may find yourself stuck and have to get back the piano and try again from a different angle. It may not help either, so you must have a backup plan. If you're not sure that the piano can fit through narrow parts, it is best to call moving experts and seek their advice. It will surely be less expensive for you to hire Washington DC hourly movers than to repair the piano. Moving experts are quite familiar with similar issues and have cranes for lifting and moving heavy objects.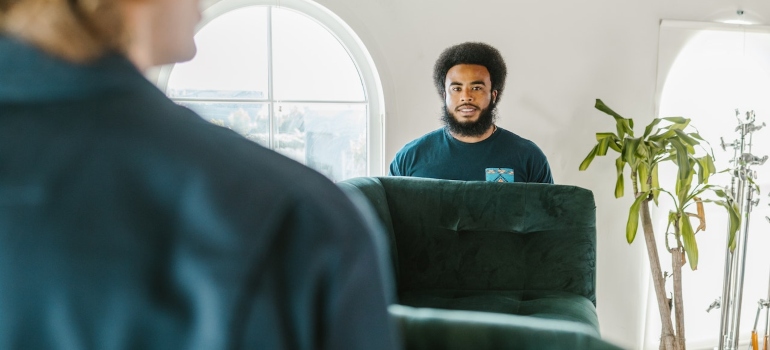 Leave the piano moving to the experts
Despite your best efforts to move your piano, in some cases, you will still need the help of professional movers. Prevent injury and damage to your instrument and hire professional movers. We at A2B moving and Storage DC know how to move a piano upstairs – step by step. Our capable team will carefully and efficiently move even the grand piano, using high-quality tools and supplies.