One of the most challenging pieces of furniture to move is definitely a piano. Many people think that piano moving is similar to moving any other bulky item. However, that is not the case. Relocation of a piano should be done only by a professional piano mover. There are many depressing stories from people describing the great amount of damage household movers have cause to their pianos. So, if you are planning to move your piano, we are giving you several reasons to hire piano movers for your DC move and relocate your precious piano safely.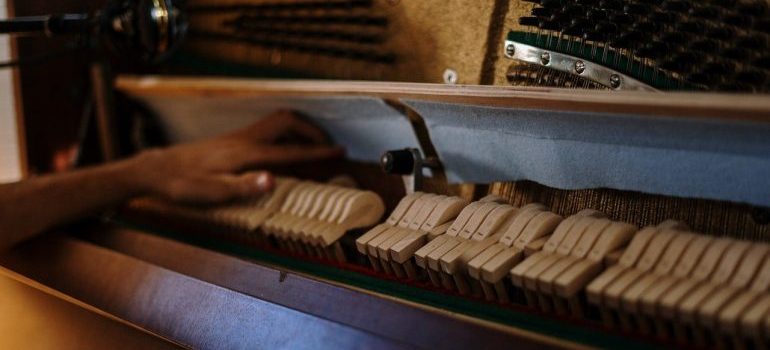 Pianos are extremely heavy – that's enough reason to hire piano movers for your DC move
Just by looking at the piano, you know that it is heavy. But, do you actually know how much your bulky musical instrument weighs? The smallest, spinet pianos weigh around 300-400 pounds, while the grand piano can go up to 1300 pounds. The reason why they weigh so much is that their internal components are made of cast iron. The whole body of a piano can be made of solid wood.  Now, you see why finding professional piano movers, such as A2B Moving and Storage is a smart choice to make. A professional moving company has special equipment for moving musical instruments. Plus, they have trucks with motorized lifts, so they will easily and safely lift and load your heavy piano.
Pianos are very large
Being very heavy is not the only problem with pianos. The other problem is the size. The excessive bulkiness of the piano makes the problem for non-professionals. They are very difficult to handle because the weight of the piano is not evenly distributed. That's why it is easy to lose the load balance while moving the piano. Because of this imbalance, it is difficult to maneuver this large musical instrument while climbing steep steps or going along narrow corners. Because of this, you need to hire piano movers for your DC move if you want to safely move a piano.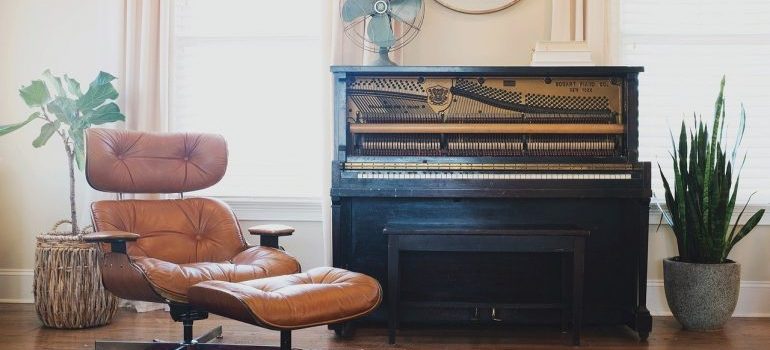 Pianos are pricey
Everybody knows that pianos are one of the most valuable pieces of furniture. They can cost from a few hundred dollars to hundreds of thousands of dollars. That depends on the brand, model, and age of the piano. So, yes, if you want this wonderful musical instrument you have to pay a little fortune. And you don't want your precious piano to get damaged during a long distance move. The damage to an expensive piano during an unprofessional move can cost you a lot. Only tuning the piano after the move will cost you from 150 to 300 dollars. So, the last thing you need is to seriously damage your beloved piano.
Pianos can be easily damaged
When you look at the piano, it seems like it is a durable and indestructible musical instrument. However, the appearance can be deceiving. Pianos are robust, but at the same time delicate. They are complex musical instruments and they contain too many delicate moving parts inside. You will be surprised to know that some models contain even 7,000 internal components. The damage to the piano's internal sound and playing mechanism is the most serious and costly one. The broken keys or damaged legs are the second severe damage to the piano during the move. The least serious type of damage your valuable musical instrument can get during the relocation are scratches or cracks. That is why it is smart to hire piano movers for your DC move and rule out the likelihood of damage to your precious piano.
Moving pianos can lead to injuries
Because of its extreme weight and, excessive size, and delicate nature, a piano is the most difficult and dangerous to move. Trying to move a piano by yourself is a courageous and dangerous act. Moving the piano with your hand can lead to an accident. The result will be a serious injury such as broken fingers, broken limbs, or back injuries. Thus, we need to emphasize that your wonderful musical instrument is valuable, but one thing is more valuable and important and that's your health and the health of your loved ones. For everyone's safety, hire piano movers for your DC move. They will do their work quickly and safely.
Pianos require special moving equipment
Moving a piano from one place to another is not easy and it is very risky. It is risky both for a valuable musical instrument and for the non-professionals involved in the move. Anything can happen when you move this super-heavy and large item from one place to another. Particularly when this item is fragile and expensive. Professional movers who are specialized in piano moving have the right equipment and know-how to cope with obstacles within their work without any problems. For your DC move, you should hire professional piano movers, and let professionals do their job.
Maybe, a piano is just an item located in a home, but it is probably one of the most precious items you have and it should be handled with utter care. You should never move a piano by yourself nor let some unprofessional movers handle the move. If you make a risk assessment you will see what is best for you and your valuable musical instrument. Remember that your piano is valuable, but your safety is more valuable than anything else. Besides,  you might find out that it is more affordable to hire piano movers for your DC move than you thought at the beginning.