Before you start moving you must know that it will be pricy. The cost of the move can vary depending on the type. However, one thing is sure. It is in your best interest to save as much money as you can when moving. You can do this by using some useful cheap moving tips. A good thing about saving money when you are moving is that it is fairly easy to do. Being more efficient is the best way to do it. Cutting costs on moving supplies is also a good thing to try out. Decluttering your house as well as selling anything you don't really need is a good way to earn money. The things you would have thrown out, either way, can help you pay for packing supplies. There are many more ways to save money when moving a house. We will tell you all about them in the article below.
Useful cheap moving tips to help you move your home at a lower price
The reliable movers DC area recommend cutting back on costs in any way you can. This is the primary step to saving money when moving. Decluttering your home and selling your unused things is also a good idea. Good time management will also prove very helpful in saving your money. Let's go through in detail with these simple cheap moving tips.
Proper packing
If you plan on hiring Washington DC hourly movers to only help you move, then it means you will have to do the packing part by yourself. There are several ways to save money during packing. Before you even start packing your belongings, we suggest separating everything you will not be bringing with you. Decluttering your house will make your packing more efficient. You can also separate these items and sell them, later on, to earn cash and pay for the moving supplies. When you do all of this, you will be left with all the belongings you will be bringing with you.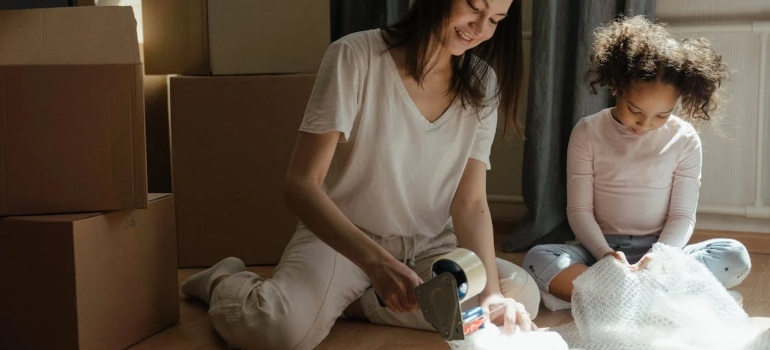 You can now get an estimate for the number of moving boxes and supplies you will need. Don't overbuy on moving supplies, it's better to buy more later on than to be left with a lot of moving supplies you really don't need. Pack everything efficiently to save money on moving supplies. Make a list of the items that will be stored in these moving boxes so you don't have to repack them later on and waste moving supplies. Depending on the number of moving containers you will need, you can also rent them out from your moving company. There is no reason for buying moving supplies if you know that it would be cheaper to rent them than to buy them.
Booking a move with a moving company
Getting assistance from the moving helpers Washington DC is a must. Moving your house by yourself will prove to be much more expensive than hiring movers to do it for you. After all, a moving company is equipped with all the needed moving equipment. You can save money when booking a move pretty easily. You can do this by booking a move as soon as possible. The earlier you book a move with a moving company, the better price you get.
The reason for this is simple. Moving companies give better deals for early moving bookings. Additionally, you will get more time to prepare for your move. Another thing to keep in mind is the moving season. Most of the moves are done during summer and warmer periods of the year. Try booking a move during a colder period of the year, since the moving prices are cheaper the movers aren't booked up.
Getting assistance
One way to avoid paying for the packing services from the furniture movers Washington DC is to get assistance from your friends or family. You will most likely need help with packing so why don't just call some of your friends or family members to help you out? You will save a lot of money this way. Even if you call some amateurs to help you with packing, they will surely be cheaper than professional packing services. Another benefit to getting assistance from your friends or family is getting to hang out with them. The more people you have with you the less effort you will have to put in. It is always better to have a helping hand with packing and eventually with unpacking once you settle in your new home.
Cheap moving tips 101: Using time to your advantage and spending money wisely
When you book the movers early on, you will have a lot of time to get everything ready. Saving money when moving a house is all about doing everything you can by yourself. However, this means that everything will take more time to be completed. Count on that and don't waste time. Efficiency will be the key to your success.
Keep in mind that you don't necessarily need to buy new moving supplies. Consider buying used cardboard boxes to use while packing. It is a cheaper way to pack your belongings as well as a more eco-friendly option. This is, of course, if you don't rent them out from your movers. This is all we prepared for you today. Make sure to use these cheap moving tips to your advantage. Happy moving!