Moving can be quite expensive task. This is especially the case when you are moving long distances. If you have decided to move to Northern Virginia, you can find affordable, but reliable moving companies. One of those companies is A2B Moving and Storage, and you can be pretty satisfied with their service. However, moving a long distance is much more than just paying the moving company to transfer your belongings from point A to point B. Many other tasks and expenses need to be covered. You have to handle everything from buying packing supplies to paying for your new residence. Nevertheless, you shouldn't be discouraged. We can help you. Keep reading our tips for long distance moving to help you save up. If you follow our advice, your relocation will be as affordable as possible.
Relocate on your own in order to save up
If you don't want to pay for a moving company, because their services can be quite expensive sometimes, you can choose to relocate on your own. If you have a car, it will cost you even less, because you won't have to rent a moving truck. However, since you are moving long distance, organizing a relocation this way may end up having more downsides, than upsides.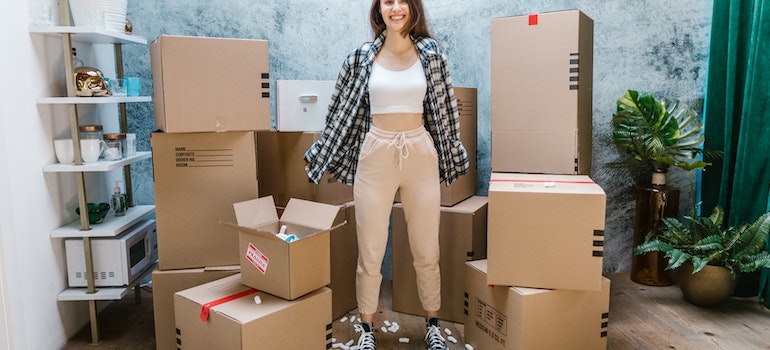 First of all, if you have a small car, you won't be able to fit all of your items at once. This means you will have to come back several times. With the gas prices, this can turn out to be a higher expense than hiring a moving company, or renting a truck. You must calculate which is better-renting a moving truck vs hiring movers for an interstate move. Sometimes paying more at the beginning helps you save up later. Don't run away from hiring professional help.
One of the tips for long distance moving to help you save up is to find the best moving date
Anyone who has some experience in moving would give you the same advice. If you don't want to spend a lot of money and you want to save up on your long distance relocation, don't move during the summer. Even though you may have a lot of time in summer, so will others. This means that this is the most popular time of the year for moves, especially the interstate ones. So, in this case:
moving prices are higher;
movers are less available and flexible;
traffic jams are huge;
For all these reasons, moving during summer is never recommendable, unless you have no other option. Long distance moving companies Northern VA have experienced and precise movers who would conduct your relocation smoothly in the summer. Nevertheless, you would still have to pay more than when moving in spring or fall, for instance.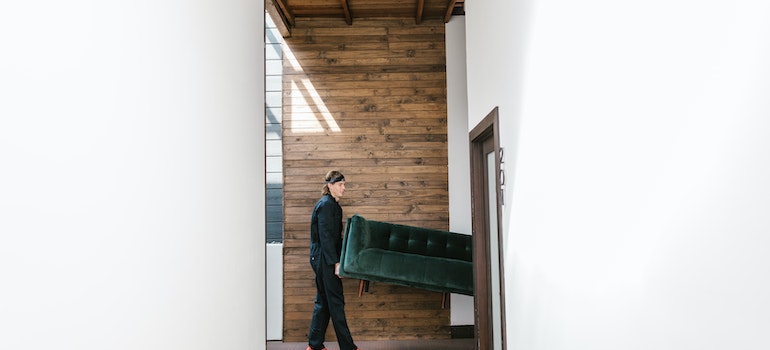 Choose the day of your relocation
Apart from avoiding long distance relocation in summer, or any other type for a relocation, for that matter, you have to choose the day of the week wisely too. Of course, the most popular days for moving are the weekends. Actually, Friday and Saturday are the days when it is almost impossible to find movers, if you haven't scheduled them weeks, maybe even months earlier. The rules are the same as in summer in general-the prices are higher and the jams are too. So, if possible, choose the middle of the week. That is the least expensive period for a move.
Instead of hiring professional packers, ask friends and family for help
The professional packers would do their job quickly and efficiently and you wouldn't have to think about a single thing. If you are moving to Alexandria, for example, this would be a great decision, because you would probably have a lot of different stuff to move to fit your new stylish Alexandria home. However, the packers would also charge you accordingly. So, if you want to avoid hiring moving and storage Alexandria VA services for everything, except for the relocation, ask your loved ones to help you. Your friends and family can assist you with your moving preparations so that you won't have to pay for professional assistance if you consider their obligations and free time while planning your relocation. While you will still need to hire a moving company to transport your belongings, doing so will allow you to save money for other services like packing and furniture disassembly.
Downsize your belongings
Decluttering is an important part of the relocation process. You might be lazy to do it, but it can help you a lot. If you pare down your items, this means you will have fewer boxes to pack and move, so your costs will be lower. Also, you can sell some items that are in a good condition and some extra money in your budget.
How to save up on packing materials?
You will need a lot of moving supplies to organize your move. And, to be honest, they are not inexpensive at all. Not only you will need different types of supplies, but you will also need great amounts of those. So, one of the tips for long distance moving to help you save up is to use what you already have. Instead of buying bubble wrap and packing paper, use clothes, blankets, and linens to wrap your fragile items. This way you save time, space, and money.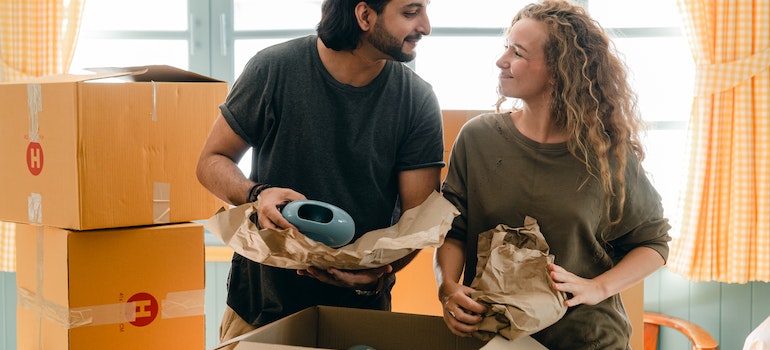 When it comes to moving boxes, you will need a lot of them, in different sizes and shapes. It is always best to gather more than you think you need because something unplanned always comes up. Of course, they are not cheap at all, so you can try gathering them another way, not buying. For example, you can ask in your local store, donation center, or from people you know who have moved recently. Just be careful, they must be in a  good condition. Damaged boxes can lead to your items breaking. Then you will be left with more expenses.
It is possible to save up while moving long distance
With our tips for long distance moving to help you save up, it is possible that your relocation doesn't cost you an arm and leg. Just be patient, organize well, and your belongings will be transferred safely, but affordably.